This KB Article References:
Zoom
,
Zoom for Faculty
,
Zoom for Students
This Information is Intended for:
Faculty, Staff, Students
Last Updated:
January 15, 2021
Average Rating:
Not Rated
Your feedback is important to us, help us by
logging in
to rate this article and provide feedback.
General Issues
3 Zoom App Tips:
Please share this information widely!
External or People Outside of Stony Brook Can get into Meetings
Zoom moved their options around. 
The option "only authenticated users can join" was moved out the of Meeting Options section to the Security sections of an individual meeting.

Issue joining Zooms in the Zoom app/program/client
If you can't join a Zoom session with the Zoom app/program (perhaps because your Zoom client isn't upgraded), join in a web browser: Click the Zoom link from calendar or email (or copy the link and paste it into a browser). In the Open Zoom Meetings window, click 1) Cancel and then 2) start from your browser.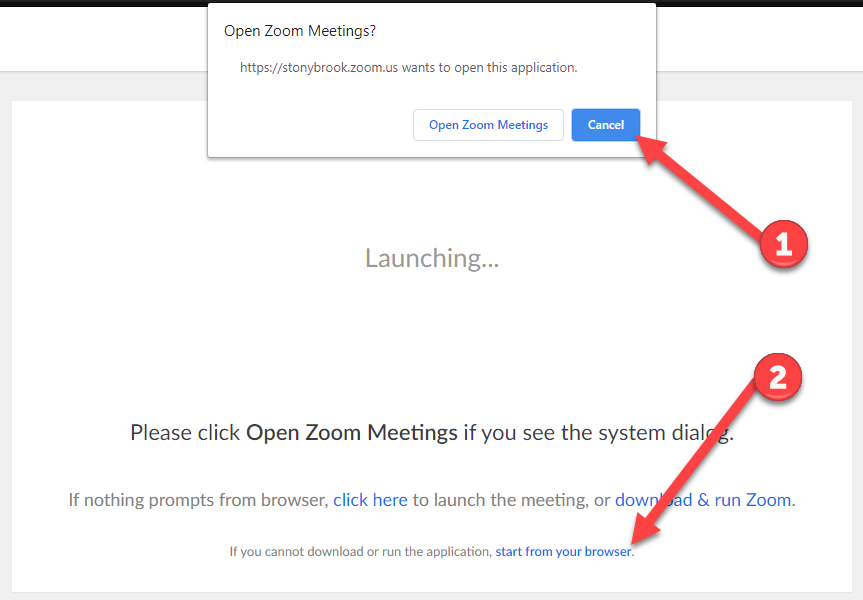 1001 Error in BlackBoard
If you received an error logging into Zoom from Blackboard, follow the login instructions here
Make sure you log in from a private or incognito browser window and you log in to this URL: stonybrook.zoom.us
2008 Error Code when signing into a Webinar
This error appears if you've set up your online session as a Webinar. We do not have a license to use the Webinar feature in Zoom. Currently, all online sessions must be created as Meetings.
Blackboard Learning Tools Interoperability  (LTI):  Missing the Setting to Record to the Cloud Option
When setting up your Zoom Meeting link in your Blackboard course, but do not see the option to record to the cloud, log into the Zoom Web Portal at stonybrook.zoom.us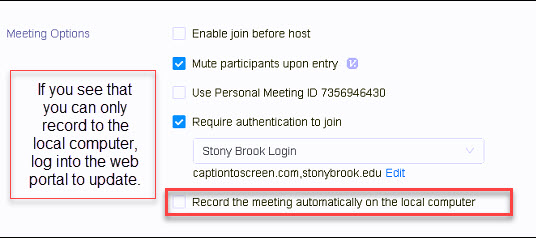 This will automatically update the LTI in your Blackboard account.
Note:  Students (as a host) do not have the privileage to Record to the Cloud. However, if a student is added as an alternative host (aka Co-host) to a meeting, and given the privileage to record, student will be able to record to the cloud. Once the meeting ends, the recording will appear in the host's cloud. 
Follow the instruction for adding alternative hosts to a Zoom Meeting: https://it.stonybrook.edu/help/kb/adding-alternative-hosts-to-a-zoom-meeting
---
No Phone-in Number
If you are creating meetings and do not see a phone number for guests to call in, you may not be logged in to Stony Brook's license of Zoom even though you used your Stony Brook email address. 
Follow the instructions for logging in but ensure that you log in from a private or incognito window: https://it.stonybrook.edu/help/kb/getting-started-with-your-stony-brook-zoom-account
---
Waiting Room Isn't Working
If you've enabled the waiting room yet attendees can get in without having to be admitted, check to see to whom you've given Scheduling Privileges. Anyone you've given scheduling privileges can get right in without waiting. Learn more about Scheduling Privileges.
---
Problems with Audio on a Windows Computer
For a quick workaround, simply call into the meeting with your Mobile Device and troubleshoot later when you have more free time.
See Zoom's article on Testing Computer or Device Audio
Upon entering a Zoom meeting, if it does not detect your microphone, like depicted: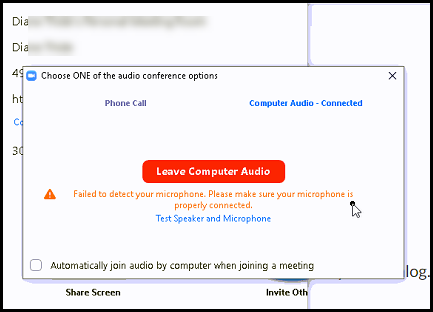 you can click Test your Speaker and Microphone for the testing wizard that will walk you through. 
If you do not see this option and are already in the meeting room, click on the arrow next to the microphone button and select Test Speaker & Microphone

You can also test your microphone in your Windows Sound Settings. See video: https://youtu.be/maBxwtT2Kp8
If Zoom still fails to locate your microphone, it is either defective or if you are using an internal laptop microphone, you may need to update your audio drivers. Contact Support for help on this.