This KB Article References:
Zoom
,
Zoom for Faculty
,
Zoom for Students
This Information is Intended for:
Faculty, Postdocs, Researchers, Staff, Students
Last Updated:
November 14, 2022
Average Rating:
Not Rated
Your feedback is important to us, help us by
logging in
to rate this article and provide feedback.
Ensuring that you are signed into your Zoom account whether by Zoom Web Portal, Mobile App,  Calendar addons, or the Zoom Desktop  with SSO (Single Sign On) before entering a Zoom meeting will mitigate issues of authorization into meeting and missing hosts.  When you are logged into your Zoom account, the Zoom meeting will be able to identify you as a licensed Stony Brook user when a meeting requires authentication to join it.
If you are using Firefox with Zoom be sure to turn off Enhanced Tracking Protection!
---
In this article you will learn about
---
Accessing your Stony Brook Licensed account from the Zoom Web Portal, Mobile App, Calendar addons, and the Zoom Desktop Client
There are many ways to access your Stony Brook Zoom account.   
*Be sure the Zoom Client is installed, updated frequently,  signed in and minimized or running in the background to mitigate any security or user issues during meetings.
Regardless of how you access Zoom (web portal, mobile, plugin or desktop client) you will need to ensure that you a logged in properly with your NetID credentials.
---
Downloading and Installing the Zoom Desktop Client (recommended)
First, search for the Zoom app on your computer (see step 2).  If it's not installed then download the client from the Zoom Download Center:  https://zoom.us/download 
if you have issues accessing the Zoom Download Center, open an incognito browser window (ctrl+shirt+n or cmd+shift+n) and in that window go to https://zoom.us/download

Click Download under "Zoom Desktop Client"
Click to install the .exe (Windows) or .pkg (Mac) and follow the installation prompts.

If Zoom doesn't open automatically, find and launch the Zoom app from the start menu (Windows) or Finder (Mac)
   
Click Sign in at when the prompt appears after installation.

Click Sign in with SSO to ensure that you sign into your SBU Zoom account

Enter the Stony Brook domain as stonybrook and click Continue

You will be prompted to log in with your NetID and NetID password. 
*If you are not prompted to log in with your NetID they system may have saved credentials if you have ever used Zoom's free trial or another Zoom account. To ensure that an SBU account is generated with your Stony Brook email address, follow the instructions for logging in to the online application in a private or incognito browser window:  https://it.stonybrook.edu/help/kb/getting-started-with-your-stony-brook-zoom-account
Ensure you are logged into the Zoom Desktop Client with a Stony Brook LICENSED account by clicking your avatar on the top right of the screen:

---
Features of the Zoom Desktop Client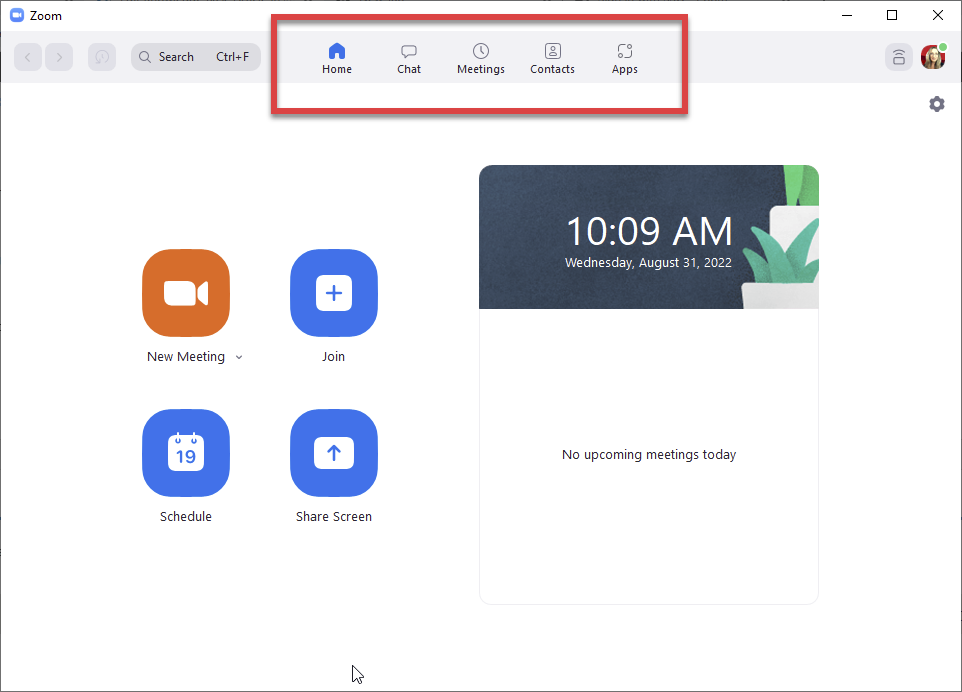 Home
New Meeting:  Initiates Zoom to start an on-demand meeting. You can invite guests within the meeting room
Join: Prompts you to enter a Meeting Room ID to join a meeting.
Schedule:  Prompts you to schedule a meeting at a future date.  You can set up scheduled meetings for yourself or others.  Once you click Schedule here, Google Calendar or Outlook will open for you to finish and send the meeting invitation to guests.
Share Screen:  Enter a Sharing Key or Meeting ID to share your screen.
Upcoming Meetings:  You will see any upcoming Zoom meetings on the right side of the screen.
 
Chat
Search for people to send instant messages or video calls.
Meetings
Find upcoming meetings and recorded meetings.
Contacts
See a list of your starred contacts and zoom rooms