This KB Article References:
Zoom
,
Zoom for Faculty
,
Zoom for Students
This Information is Intended for:
Faculty, Staff, Students
Last Updated:
August 02, 2021
Average Rating:
Not Rated
Your feedback is important to us, help us by
logging in
to rate this article and provide feedback.
The Zoom for GSuite Add-on is a tool you can use with Google Mail and Calendar. It allows you to create meetings for yourself or anyone for which you have scheduling privileges. You can even change the Zoom Meeting settings in the add-on like add a waiting room, require authentication, etc. without having to go to the Zoom Web Portal (stonybrook.zoom.us). 
This article will provides instructions on
4/25/2021:  There was an update to the Zoom for GSuite Add-on on 4/25/2021. If you find that you're Zoom meetings are not acting as expected, you may need to sign out of the Zoom for GSuite Add-on and sign/re-authorize. Possible signs you ened to sign out/back in Zoom Google Add on:
 -You have an event in Google Calendar with a Zoom link and set it to allow extneral users, but external users can't join
 -Your Zoom meetings created in/started from Google Calendar don't work as expected
Notes about using Zoom with Google Calendar:
When using the add-on, make sure you are not signed in to multiple Google account with the add-on installed. This will cause issues when scheduling Zoom meetings using the add-on.
If you are rescheduling a Zoom meeting from Google Calendar, edit the calendar entry and change the meeting date/time. Do not drag and drop the calendar event or copy the meeting details to a different calendar entry.
Prerequisite:  Make sure the Zoom app is installed, signed in, and updated on your computer
To start using the Zoom for GSuite Add-on, first, make sure you are signed into the Zoom App that lives on your computer with your NetID and password (choose "Sign in via SSO" when signing into the app and enter stonybrook for the domain).
Ensure that "LICENSED" is next to your name when clicking on the icon on the top right of the app. Also click Check for Updates to update the app. If you do not see the Check for Updates option, you will need to contact support. You should update your Zoom application every week.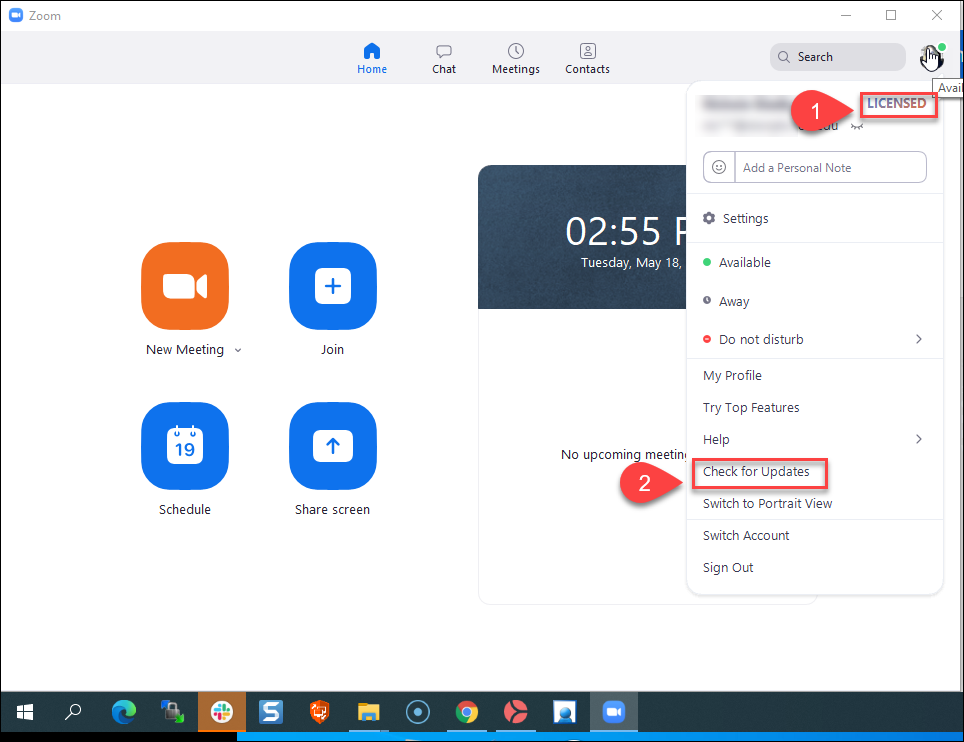 Logging into/Reauthorizing the Zoom for G-Suite Add-on
You need to Log into / Authorize OR sign out/back into and reauthorize the Zoom Add on in these cases:
The first time you use the Google Add-on you'll need to sign in correctly.
If there is an update 
If Zoom when used through Google isn't behaving as expected (when meetings are created and/or started from Google).
Learn how to sign in and Authorize/reauthorize the Zoom add-on here.
Adding Zoom Links to Google Calendar Meetings with the Zoom Add-on
In Google Calendar, create a new event (or open an existing event)
Click the drop-down next to Add video conferencing and selelct Zoom Meeting

The Zoom link, ID, Passcode, and phone information will be added 

To change meeting options, while viewing the event in Calendar, click the Zoom icon on the right side (if you don't see the zoom icon, click  < in the bottom right corner to show the sidebar)

You can then change the meetings options (e.g., schedule for someone else if you have access to do so, require authentication or not, etc.). When finished updated the options, click Update Meeting near the top right