This KB Article References:
High Performance Computing
This Information is Intended for:
Faculty, Postdocs, Researchers, Staff, Students
Last Updated:
April 01, 2020
You will also need to setup DUO Authentication before using the system.
Logging In
Linux and MacOS
You may access the SeaWulf login nodes using the command-line from any modern workstation via secure shell (SSH). In Linux or MacOSX, simply open your favorite terminal program and ssh to the SeaWulf login node with X11 enabled by issuing the command:

ssh -X NetID@login.seawulf.stonybrook.edu
Windows
MobaXterm Home Edition may be freely downloaded and installed by SeaWulf users, as long as multiple individuals are not using the same installation.  MobaXterm comes with its own X server, so no additional utilities are required to enable X11 tunneling.  Login with MobaXterm by clicking the "New Session" button and provide the hostname (login.seawulf.stonybrook.edu) and your username: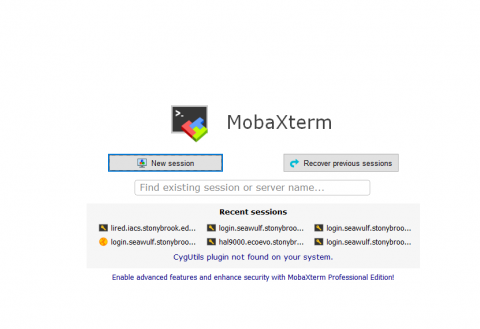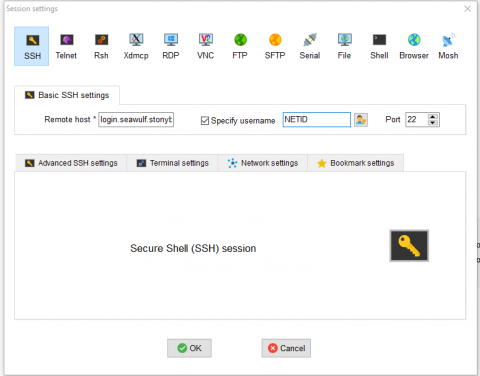 ---
Alternatively, If you are using Windows, we recommend using either SSH Communciations Security Corp's Secure Shell (SSH) client or MobaXterm.  SSH is available for SBU researchers and students using SoftWeb (login with SBU NetID required) Using this application you can login to login.seawulf.stonybrook.edu using your NetID, making sure to enable X11 forwarding under X11 tunneling: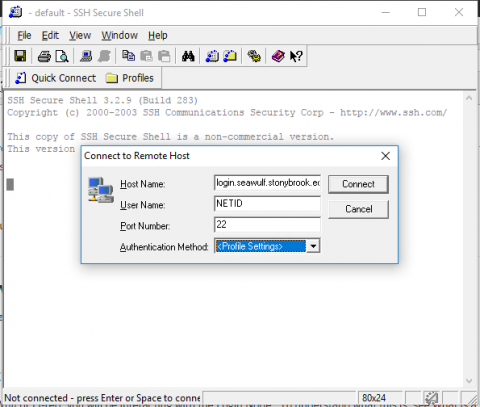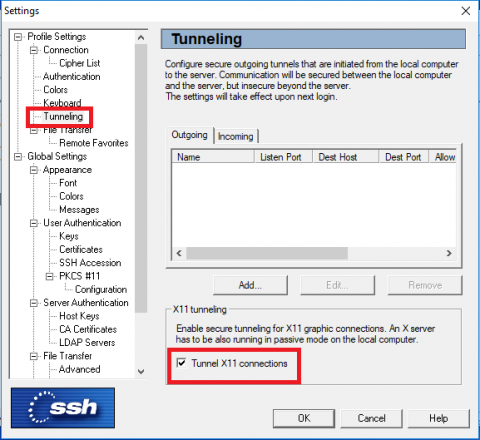 In addition an X11 server, such as Xming, must be operating on your computer in order to utilize graphical applications.
DUO Authentication
When you attempt to access the login node by following the above methods, you will receive a notification on your DUO-enrolled device.  To finish logging in, please  view the DUO notification and approve the log in attempt by selecting the green check mark.
If you have not already setup DUO, please refer to our FAQ page on enrolling in DUO first.
Setting Up Passwordless Access
Additionally, passwordless access is easily enabled. See How do I set up passwordless SSH? for a short tutorial.
Accessing a particular login node
SeaWulf now has two login nodes available to all users.  If you would like to choose which login node you are placed on (e.g.,  in order to retrieve a saved screen session), you may specify the login node you want by choosing one of the following two hostnames:

login1.seawulf.stonybrook.edu
login2.seawulf.stonybrook.edu
If you do not specify a login node when connecting to SeaWulf, we will use a round-robin load balancing system to automatically place you on either login1 or login2. 
Please note that screen sessions may only be accessed from the login node on which they were started.  When detaching from a screen session, please make note of which login node you are on and specify this particular login node when you access it again in the future.
Learning About the Login Nodes
Whenever you log into SeaWulf, you will be interacting with the Login Node.  To understand what this is, see What is a login node?