How do I sign into my Stony Brook Zoom account for the first time? OR How do I sign in again to fix possible issues with my Zoom account?
In this article you will learn how to properly log into the Zoom Web Portal at: https://stonybrook.zoom.us
For more features, download and install the Zoom Client for your computer: https://it.stonybrook.edu/help/kb/installing-and-signing-into-the-zoom-application-client
*Some features only work in the Zoom Client.
Troubleshooting
If you paid for your own Zoom Pro account with your @stonybrook.edu email address, to add your account to Stony Brook's Zoom,
submit a request to Zoom
indicating you want to have your personal account integrated with your employer's account and provide our domain, "stonybrook.edu" (it may take a few days before Zoom works with you to resolve this).
Sign into your Stony Brook Zoom account in a browser
Open Chrome (or another browser like Firefox or Safari)
Open an incognito (private) browser window using the keyboard shortcut ctrl + shift + N on Windows or command + shift + N on Mac. Using an incognito browser will ensure that you will not be automatically logged in with a saved username and password.
In that incognito browser window, go to stonybrook.zoom.us
Click Sign in and sign in with your NetID and NetID Password
If you had an existing Zoom account and are prompted to link or transfer from your account, follow the prompts to do so and look for a confirmation email.
Your Zoom Account displays

Be sure to download and install the Zoom Application to your device to be able to use all Zoom features. https://it.stonybrook.edu/help/kb/installing-and-signing-into-the-zoom-application-client
Learn more about Getting Started with Zoom
Ensure that you are logged in correctly in the Zoom Web Portal , Zoom Client and Google Calendar
How do I join my class on Zoom?
After your professor sets up your Zoom meeting room inside Blackboard:
Click the Zoom Meeting button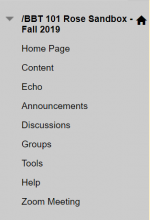 Click the Join Button of the applicable meeting

How do I access recorded classes in Zoom from Blackboard?
Sessions that your professor recorded to the cloud* are automatically accessed through Blackboard:
Click on the Zoom Meeting button
Click on the Cloud Recordings tab
Click on the title next to the appropriate date. You will get the option to view the video or listen to the audio.
---
*A cloud recording may take several hours to process before you can find it and share the link.