How do I sign into my Stony Brook Zoom account for the first time?
Sign into Your Stony Brook Zoom Account
Even if you've used Zoom before, the first time you use your Stony Brook Account, start by signing in like this:
In a browser, go to stonybrook.zoom.us

Anyone who has used Zoom before with their Stony Brook email address should open an incognito (or private) browser window so that no old credentials are saved preventing automatic login.

Windows: ctrl + shift + N
Mac: command + shift + N

Click Sign in and sign in with your NetID and NetID Password*
If you had an existing Zoom account and are prompted to link or transfer from your account, follow the prompts to do so and look for a confirmation email.
Your Zoom Account displays

Learn more about Getting Started with Zoom
*Sign into Zoom at
stonybrook.zoom.us
with your NetID and NetID Password. If you don't know your NetID or NetID password,
find them online now
New!
(In the Stony Brook Password Reset tool, start by updating your profile, and then you will see your NetID and/or be able to reset your password)
How do I join my class on Zoom?
After your professor sets up your Zoom meeting room inside Blackboard:
Click the Zoom Meeting button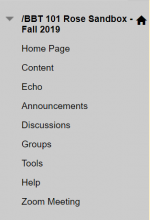 Click the Join Button of the applicable meeting

How do I access recorded classes in Zoom from Blackboard?
Sessions that your professor recorded to the cloud* are automatically accessed through Blackboard:
Click on the Zoom Meeting button
Click on the Cloud Recordings tab
Click on the title next to the appropriate date. You will get the option to view the video or listen to the audio.
---
*A cloud recording may take several hours to process before you can find it and share the link.