This KB Article References:
Duo Security Two-Step Login
This Information is Intended for:
Faculty, Researchers, Staff
Last Updated:
June 23, 2023
Average Rating:
Not Rated
Your feedback is important to us, help us by
logging in
to rate this article and provide feedback.
Two-step login means that when you log into a protected system (step 1), you be prompted to approve this login from your default device (step 2). If you are not sure which device is your default device learn how to manage your devices.
For systems that are not using SSO
Approve the login on your device.
For systems using SSO (Google mail, Zoom, Qualtrics, TMS..)
1. Enter your NetID and NetID password.
2. A screen will appear letting you know what device will send a push or call.
3. Approve the login on your default device.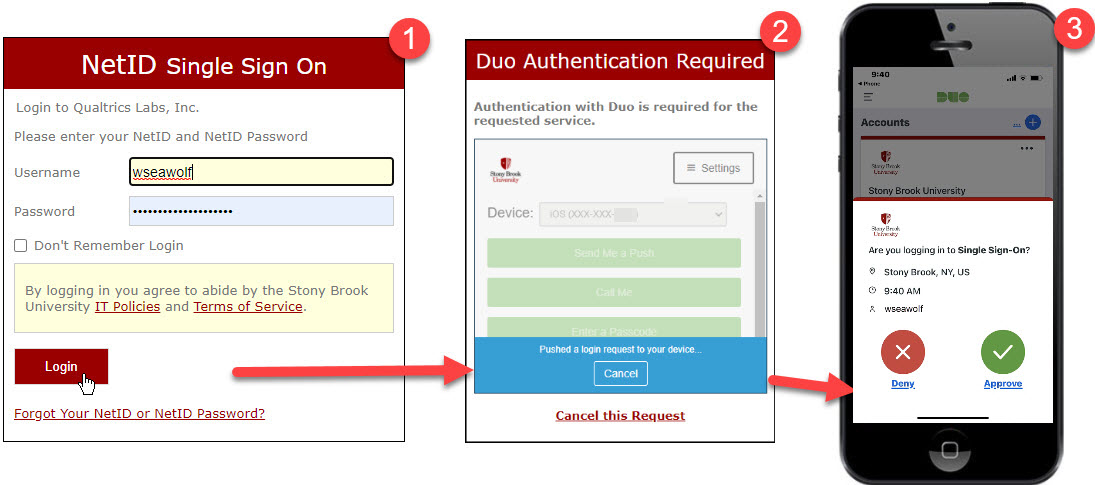 ---
When you try to log into a system that has Duo Two-Step Login:
If you are not an enrolled Duo user, your login will not be verified and you will not be able to get into the system.
If you are an enrolled Duo user, you will be prompted by your default device to approve this login or register your 1st device.

If you have Duo app on your phone or tablet, approve it when prompted: