This KB Article References:
Digication ePortfolios
,
Google Drive
This Information is Intended for:
Clubs, Faculty, Researchers, Staff, Students, Teaching Assistants
Last Updated:
May 24, 2018
Refer to the links and video below for help loging onto Google Drive, creating a Google Document and editing sharing settings.
Google Docs: Access, create, edit, and print
1. In the Google Docuement that will be hyperlinked, copy the Google Document sharing URL that has been set to Anyone who has the link can view.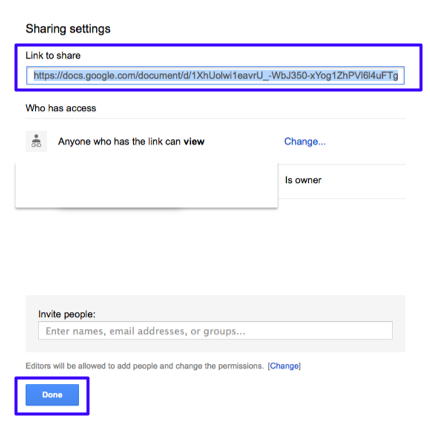 2. Log in to Digication and click on your eportfolio.
3. On the Digication Home page in the My e-Portfolios section, click on your ePortfolio to open it.
4. Click on the page that you would like to add content to.
5. If you have already added a module to this page, you can add another module by clicking the green Add a Module button on the right side of the page (pictured below). This will cause a grey box listing the different types of modules to appear. If you have not yet added a module to the page you are working on, this box will appear on its own.
6. In the grey box that appears, you will notice that the Rich Text module is selected by default. After Rich Text is selected, click the green Add This Module button on the bottom right corner of the grey box.
7. To add a hyperlink to the Text Module of an ePortfolio, there must be an object to turn into the hyperlink. Write and/or select the text that will become the hyperlink. Select the text and click on the Hyperlink button.
8. Paste the Google Document sharing URL under Link URL, set the target to Open in a new window and give your link a description and click Insert.
9. Click Save, Publish, and confirm the publishing of the module. You may click View Text to test the link.
creating_a_google_doc_for_digication.pdf