This KB Article References:
Virtual SINC Site
This Information is Intended for:
Clubs, Faculty, Researchers, Staff, Students, Teaching Assistants
Last Updated:
July 14, 2022
Average Rating:
Not Rated
Your feedback is important to us, help us by
logging in
to rate this article and provide feedback.
Requirements
Your Stony Brook University NetID account
A properly configured DUO account
A working network connection
The following web browsers

Google Chrome 57 or later
Safari 11 or later (MacOS only)
Firefox 55 or later
Microsoft Edge (Chromium version) 79 or later
One important note before continuing
Caution! There is a 30 minute idle timeout.  A warning message will appear that time is running out.  Be aware that you may be leaving unfinished projects alone too long.  You will lose your work!
Using the Virtual SINC Site
In your web browser of choice, enter the following URL in the address bar and press Enter:
                   https://vdi.cloud.stonybrook.edu
You'll be directed to a page asking for you to sign in with your email or phone. 
Type in your Stony Brook provided NetID and your password
In this window, enter a value of either 1, 2 or 3 on the field labeled Passcode.  We recommend option 1 to continue.

Make sure you have the DUO app installed and working on your mobile phone beforehand.
If you do choose option 3, please enter the passcode onto the Passcode field
If you chose option 1, you'll be prompted to accept a DUO multifactor authentication push sent to your phone.  Press Accept to continue: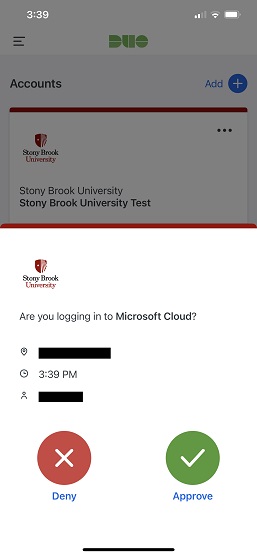 .
.
Enter your NetID and password again for 2nd time. 
You should then see a catalog of desktops one can connect to.

The virtual desktop labelled "Virtual-SINC-Site" has most of the applications we make available.
Statistical-Apps has applications such as SPSS, AMOS, SAS, Statistix and Stata
VSS-3D-Apps offers applications that require 3D acceleration such as Matlab, COMSOL, AutoCAD, Google Earth Pro to name a few.