Network (Wired)
Each campus residence is equipped with a wired network connection. In addition, there are several locations on campus where public jacks are available for use.
Student Activities Center
•New Commuter Lounge (16 Data Jacks)
•Old Commuter Lounge (4 Data Jacks)
Frequently Asked Questions
How do I request a Fixed IP Address?
A fixed IP address is an IP (Internet Protocol) address that is assigned centrally by Network administrators to a device so that this address does not change on its own.
Typical uses that require a Fixed IP include:
network printers
computers that need access to various systems, software, or servers.
To request a fixed IP address please fill out this form https://help.stonybrook.edu/TDClient/277/Portal/Requests/ServiceOfferings/Edit?ID=2470
Fixed IP address request may take up to 5-7 business days to complete. Additional work may be required after the address has been applied to ensure proper functionality of certain devices (i.e. Network Printers).
What are the differences between wired and wireless connections in the residence halls?
Wired connections are faster, more secure, and dependable and should be used for the transmission of sensitive or personal data. The Division of Information Technology recommends that students plug their computers into an ethernet jack when they want to use the Internet. However, the University is aware that students prefer the convenience of wireless and have come to expect reliable wireless service since many have their own wireless routers and networks set up at home. Since wireless is a shared resource, students need to understand the reasons why they may experience campus wireless connection issues, especially in the residence halls.
Wireless speeds degrade as more people connect to an access point. The lunch hour and the hours between 10 p.m. and 2 a.m. tend to be high traffic periods. These are times that students may experience connectivity issues such as limited or no connectivity, intermittent connectivity, slow performance, or weak signals.
Wireless speeds will also degrade when users connect with network cards that support older technologies (i.e. 802.11b). Having a computer with a more up-to-date network card (802.11n) should help with wireless speeds.
It is recommended that all users run through the WolfieNet-Get-Connected site when first trying to make a wireless connection in order to configure their computer to successfully connect to WolfieNet-Secure, the preferred wireless network on campus.
The University is continually in the process of improving its wireless network, but if students experience issues, they can provide feedback through the Customer Engagement & Support Facebook Page or visit the Customer Engagement & Support Walk-in Center on the fifth floor of the Melville Library. Customer Engagement & Support can also be reached by telephone at (631) 632-9800.
Keep Access Points (APs) Plugged In
During the installation of Wi-Fi in the residence halls during the summer of 2009, the decision was made to use the existing data jacks in living rooms to save on cost and to speed up installation. Most access points were thus installed near a data jack in the living room of a suite. This access point is not just for that suite. All access points work together. Removing an access point reduces the overall Wi-Fi effectiveness for the entire area.
Leave Personal Routers at Home
Students are not permitted to bring their own personal routers to campus. Not only is it prohibited under DoIT Policy D102 - Network Security, but the technical reason is because personal wireless routers conflict with WolfieNet's access point frequencies. If everyone installed their own wireless router on campus, only the owner of the router and users in close proximity would be able to use the Wi-Fi at the location it is installed. Roaming would not be possible and could prohibit the connection to WolfieNet. The radio frequency used by personal wireless routers is limited. They interfere with each other and this is not fair to students who are playing by the rules and trying to connect to WolfieNet-Secure through the access points supplied by the University.
Which network cable do I need in my dorm?
For students living in Roosevelt or Roth Quads who want to use a wired connection, a special "RJ11-RJ45 ethernet cable" is required.

You can pickup an one complimentary RJ11 to RJ45 cable at DoIT's Tech Support Central located in the ECC Building across from the Psychology Buildings.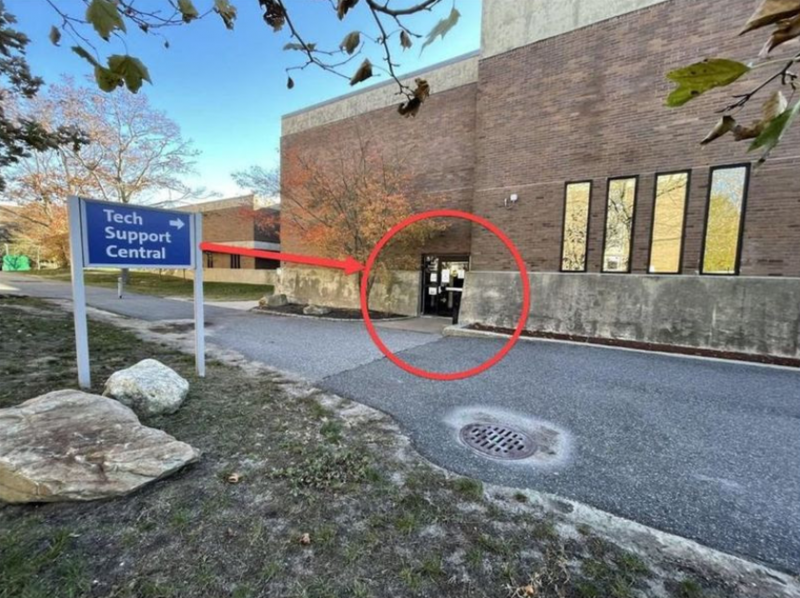 Similar cables sold on Amazon DO NOT work on our network.

All other residence halls require the standard CAT-5 ethernet cable (RJ45-RJ45) which can be purchased at any reliable computer store.
Take a look at the pictures below. Which jack does the one in your room resemble? That is the type of cable you need.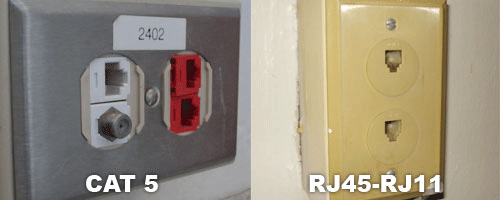 There are no additional resources available for this service.