Why Do We Need Updates?
As part of DoIT's ongoing efforts to better secure campus computers and to ensure the reliability of our customers' software, Customer Engagement & Support provides routine software maintenance on computers it manages on a weekly or monthly basis.
What Do We Update?
This Maintenance Consists of Weekly Software Updates to the Following Programs:
Adobe DNG Converter
Adobe Reader DC
BBEdit
Google Chrome
Microsoft Excel
Microsoft OneNote
Microsoft PowerPoint
Microsoft Word
Self Service
Stellarium
VLC
vSSH Lite
Zoom
Optional Applications That Receive Updates:
Adobe Creative Cloud
Apple Garageband
Apple iMovie
Apple Keynote
Apple Numbers
Apple Pages
Arduino
Atom
Blender
Fetch
Firefox
Godot
Microsoft OneDrive
Microsoft Outlook
Microsoft Remote Desktop
Microsoft Skype for Business
Microsoft Teams
Processing
R - Statistical Analysis
R Studio
What Do I Need To Do To Get Updates?
The day your department is scheduled to receive updates according to their schedule, you will receive the following message: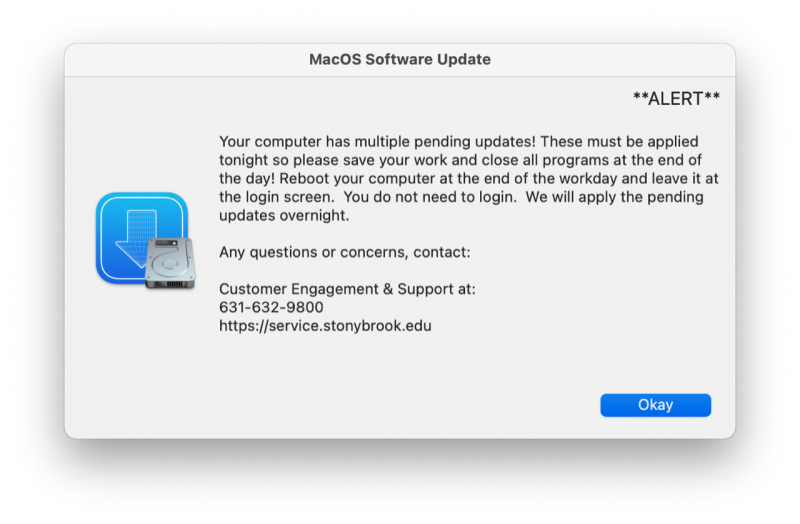 When you receive this message, you will need to complete the actions below (as it applies to you) when you have completed your work on the day your scheduled update is to take place:
Save all of your work and close all applications
If your Mac has a wireless connection, stay logged into your computer while charging
If your Mac has an ethernet connection, log off or restart your computer, but ensure that the power is on (if using a laptop with an ethernet connection, make sure your computer is open and charging)
In addition to the scheduled updates, all computers will automatically be rebooted on Sunday mornings.
Apple Operating System Updates and Patches
In addition to software update notices, you should also be notified when Mac OS updates are needed as well. However these OS updates and patches will be delayed from the day Apple officially releases them.
At the end of the delay period, you will then be notified that your update is available. This update will take place automatically by your computer. However, if you have a secure token associated with your account, you will have the ability to apply the update yourself from the System Preferences menu of your computer. If you do not have a secure token, you will need to contact Customer Engagement and Support to apply this to your account.
Users with DoIT managed Mac computers have access to a self service application which enables them to install optional applications or re-install a standard set of applications without needing administrative rights. To learn more, check out this KB article!
There are no additional resources available for this service.