Each term Grade Rosters are available in the Faculty Center, in SOLAR, for Mid-Term Grade submission and for Final Grade submission.  You must enter the grades in the correct term, save often, and then submit grades under the Approval Status field. 
1.  From the SOLAR homepage, click Faculty Center under Instructor Self Service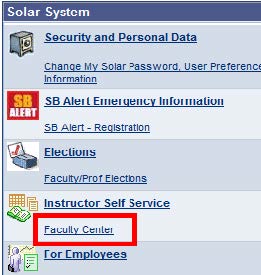 2.  Click the Change Term button and select the Term that you are submitting grades for. You'll see the list of classes that you are authorized to enter or submit grades for.
Click the Grade Roster 

 button next to the class.  You will only see this button when grades are allowed to be submitted (last day of classes).
Class Roster    
Grade Roster  
Photo Roster   
3. Entering grades:
Choose Grade Roster Type:  Mid-Term Grade or Final Grade
Ensure that Approval Status:  Not Reviewed
Under the Roster Grade Column, enter grades for each student.
Save Often by clicking the save button next to the Approval Status field:  In SOLAR you will be timed out after 20 minutes of inactivity. As you are entering grades under the Approval Status set to Not Reviewed grades will be validated and errors identified each time you save.
4.  Submitting grades:
Follow these instructions when all grades have been entered and are ready to be reviewed and submitted.
Change the Approval Status field:
 Select Ready to Review if you are not the Primary Instructor for the class and do not have approval status to submit grades.
 Select Submit Grades if you are the Primary Instructor and you've reviewed all grades and are ready to submit them.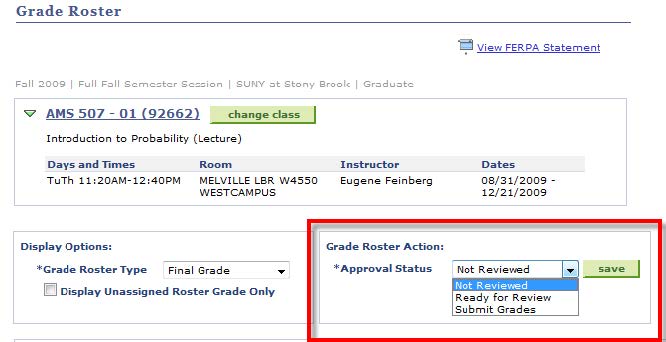 Click Save when finished. You will receive a message if there are any errors.
Once submitted successfully, you will no longer be able to make any changes.
---
Printing the Grade Roster:  Click "Printer Friendly Version".