This KB Article References:
Turnitin®
,
Brightspace
This Information is Intended for:
Faculty, Staff, Teaching Assistants
Last Updated:
February 07, 2023
Average Rating:
Not Rated
Your feedback is important to us, help us by
logging in
to rate this article and provide feedback.
You can set up Turnitin® to detect plagiarism within the Assignment Tool in Brightspace.
Create an Assignment
Select Evaluation & Feedback
At the bottom of the Evaluation & Feedback area, select Manage Turnitin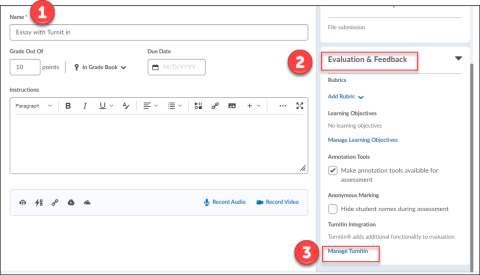 On the Turnitin® Integration Page:
Enable Grademark for this folder
Enable Originality Check for this folder
Click More Options in Turnitin® to specify:

Allowed File Types
What sources you want to compare against
Exclusions from Similarity Reports, etc.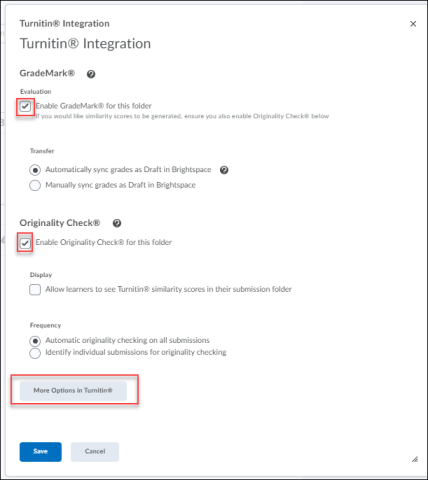 Student Submissions:
Once assignments are submitted, students will receive an email that looks like this:

Viewing Student Submissions:
You can view Turnitin® Similarity Report (results) in two places in Brightspace:
In the Assignment area
In Grades
To learn more about Turnitin® similarity reports, please click here.
Additional Resources:
For additional information on enabling Turnitin® for assignments, please click here.
For a guide on Assignments and Turnitin®, please click here.