This KB Article References:
WolfieNet-Secure
This Information is Intended for:
Faculty, Staff, Students
Last Updated:
August 11, 2020
Average Rating:
Not Rated
Your feedback is important to us, help us by
logging in
to rate this article and provide feedback.
There is a potential issue with Android devices where a proxy is set by an app or an update.  This will interfere with your Wifi connection and you will need to turn it off.  There may be slight variations to these instructions because different devices have different manufacturers.
On an Android phone, swipe down from the top of your phone to display the menu
2. Tap the Settings icon
3. Tap Wifi to view your list of Wifi profiles.
4. Tap WoflieNe-Secure and then Modify Network  or Modify Settings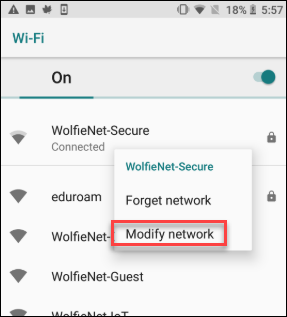 5. Tap Advanced Settings 
6. In the Proxy drop-down select None