This KB Article References:
Google Drive
This Information is Intended for:
Faculty, Researchers, Staff, Students
Last Updated:
February 10, 2022
Average Rating:
Not Rated
Your feedback is important to us, help us by
logging in
to rate this article and provide feedback.
Google Drive for Desktop does 2 things:
Syncs your files in the cloud (drive.google.com) for access on your computer.
Backups up libraries or folders from your computer to the cloud (drive.google.com). Note: you can decide which folders to back up or none at all. Also note: these files are private just to you.
---
In this article you will learn how to:
---
Setting up Google Drive for Desktop: Preferences
Once Google Drive for desktop is installed you will need to sign in with your Stony Brook account and set up your preferences.
At this prompt click on Open Preferences

or if it disappears look for the Google Drive icon in near your clock or in your system tray, click on the gear > Preferences.

The first option on the left is the menu to add folders or libraries to sync to the cloud (drive.google.com). Click Add Folder to add your Desktop, Download, and/or Documents libraries then navigate to the folder or library you want to sync. This is optional, you do not have to add a library or folder to sync to the cloud. However this is a great way to back up your files or access them when you don't have your computer available.

In this example, I have added my Desktop only. When I go to drive.google.com I see, under the Computers option, the desktop. Here, I can read or edit my files if it renders in a browser.

Next option: You don't have to do much of anything here. Note: You can ensure that your Syncing option is set to Streaming. This option uses less hard drive space.

This is how it looks in Windows File Explore. The G: drive is your shortcut to storing and accessing files in your My Drive and Shared Drives. Google files will open in a browser, Microsoft files will open in it's native Microsoft Suite of applications, video and image files will open in your default video/image editors and likewise other files like autocad files will open in their native applications that are installed on your computer. On a Mac the G: can be found in Finder.

---
Opening and Saving Files from Your Computer to Google Drive
You can open files from the Google Drive G: in your File Explorer (PC ) or Finder (Mac). Google files will open in a browser for you to read or edit. Other files will open in the default application installed on your computer.
When working and saving files on your computer, be sure to save them to the G: and then navigate to the folder where you want to save them.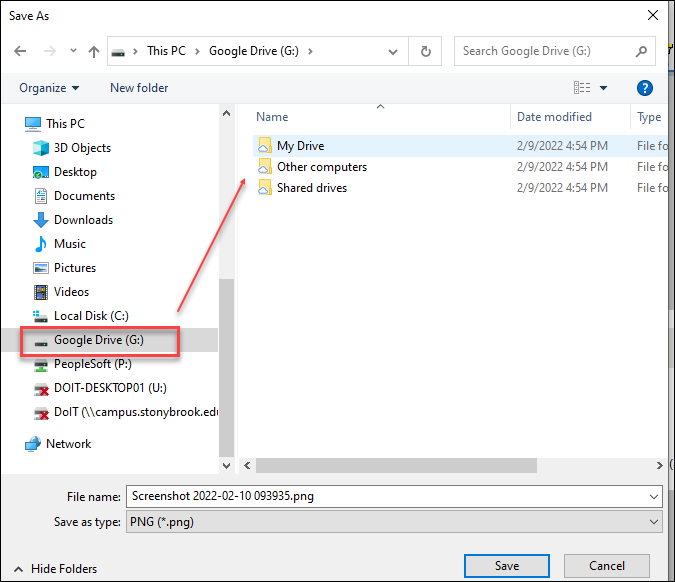 All files saved in the G: will be accessible in drive.google.com