This KB Article References:
Clickers
This Information is Intended for:
Students
Last Updated:
August 11, 2020
Average Rating:
Not Rated
Your feedback is important to us, help us by
logging in
to rate this article and provide feedback.
In order to register your clicker and use it in your class(es), you will need to create a Turning Technologies account first and add your Device ID to your account.  The easiest way to do this is through your course on Blackboard.
To register your clicker:
1. Log into Blackboard and go to one of your courses
2. Go to the "Tools" section of the course, scroll down to the bottom and click the "Turning Account Registration (clickers)" link
3.  You will be redirected to the "NetID Single Sign On" page. Login with your NetID and NetID password
If you are NOT logging in for the first time please skip to Step 7
4. If you are logging in for the first time, you will see the following steps: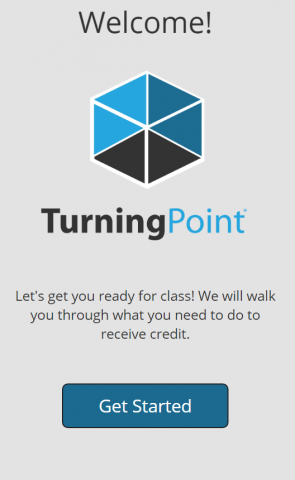 Go ahead and click Get Started
5. Subscription
If you purchased a new clicker from the University Bookstore, enter the license code that is printed on the business card and click Redeem, and then Continue
If you purchased a clicker/license bundle from Turning Technologies, your license should already be applied to your account.  Please press Continue
If you are renting a clicker, purchased a used clicker or received it from a friend, you will need to purchase a license code in order to use it in your class(es).  You can purchase the license later on. Please click Continue
5. Clicker ID
If you have a clicker with you, please enter the 6-digit Device ID printed on the back of your clicker and click Add
If you don't have a clicker, simply click Continue
6. Blackboard Connection
The Blackboard box should be automatically checked off if you accessed the Turning Technologies webpage through Blackboard. If it is not checked off, please return to Blackboard → Tools and connect to Turning Technologies that way
7. Once you are finished, you will see the dashboard which tells you the status of each category
If you did not have a subscription code and wish to purchase one, you can clicker on Purchase Subscription
Confirm that your Clicker ID is matching with the one listed under Response Devices
Make sure all 3 categories are checked off before using it in class. Blackboard will not receive grades unless these are checked off
If you have any questions or run into trouble while registering your clicker, you can contact Turning Technologies' Support Team by email at support@turningtechnologies.com or by phone at 1-866-746-3015.