This KB Article References:
Brightspace
This Information is Intended for:
Faculty, Staff
Last Updated:
March 22, 2023
Average Rating:
Not Rated
Your feedback is important to us, help us by
logging in
to rate this article and provide feedback.
Publisher tools (e.g., McGraw-Hill, Pearson) will be set up in Brightspace. Some tools are available under Existing Activities, some under Existing Activities and then External Learning Tools. See below for links to vendor documentation on working in Brightspace (D2L*) with these tools.
*Brightspace is also called D2L (Desire2Learn), so you might see D2L instead of Brightspace in vendor documentation. Also, in Brightspace, we use the Classic Content, not New Content/Lessons, experience.
Note: Some publishers partner with companies that provide proctoring services. The only Lockdown Browser that exists in Brightspace is Respondus Lockdown Browser.
Cengage, Pearson, Wiley
Add Cengage, Pearson, and Wiley content:
In Content for your course, create/select the module you'd like the content in
With that module selected, select Existing Activities and select the desired option here, and then see the linked documentation for more information on setting up and using these tools: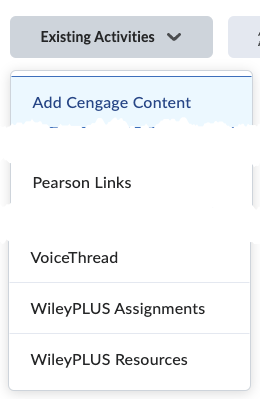 Macmillan and McGraw-Hill
Add Macmillan and McGraw-Hill content:
In Content for your course create/select the module you'd like the content in
With that module selected, select Existing Activities > External Learning Tools and select the desired option:

Macmillan Course Tools Launch (not Macmillian Course builder launch) Learn more about Macmillan
McGraw-Hill Connect (Tip: we use Classic Brightspace/D2L) Learn more about McGraw-Hill