This KB Article References:
Symantec Endpoint Protection Antivirus
This Information is Intended for:
Clubs, Faculty, Postdocs, Researchers, Staff, Students, Teaching Assistants
Last Updated:
August 11, 2020
Average Rating:
Not Rated
Your feedback is important to us, help us by
logging in
to rate this article and provide feedback.
Windows:
Find Symantec EndPoint Protection in your Programs or quickly find it by pressing the Windows key on your keyboard and typing "Symantec".
Or you can look in your system tray (next to your clock) at the bottom right of your screen.
The managed version of Symantec is indicated with a green dot on the gold shield icon; the unmanaged has no green dot.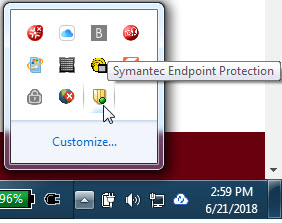 Mac:
Find Symantec EndPoint Protection in Finder > Applications or look for the gold shield next to your clock at the top right of your screen.
The Managed version will have server, policy and licensing information available in the Management menu:

The unmanaged verion will show unmanaged greyed out in the Management menu: