This KB Article References:
Google Contacts
This Information is Intended for:
Faculty, Staff, Students, Teaching Assistants
Last Updated:
August 11, 2020
Average Rating:
Not Rated
Your feedback is important to us, help us by
logging in
to rate this article and provide feedback.
Stony Brook University's Google Contacts Directory includes all faculty, staff, and students at all Stony Brook campuses, and in some cases more than one person shares the same (or a similar) name. Because of this, it is especially important for senders to be sure they have the correct contact.
When you type a name in the To field of an email, Google gives suggestions, but if there are multiple contacts with the same name, it can be hard to know, from these suggestions, which is the correct email address: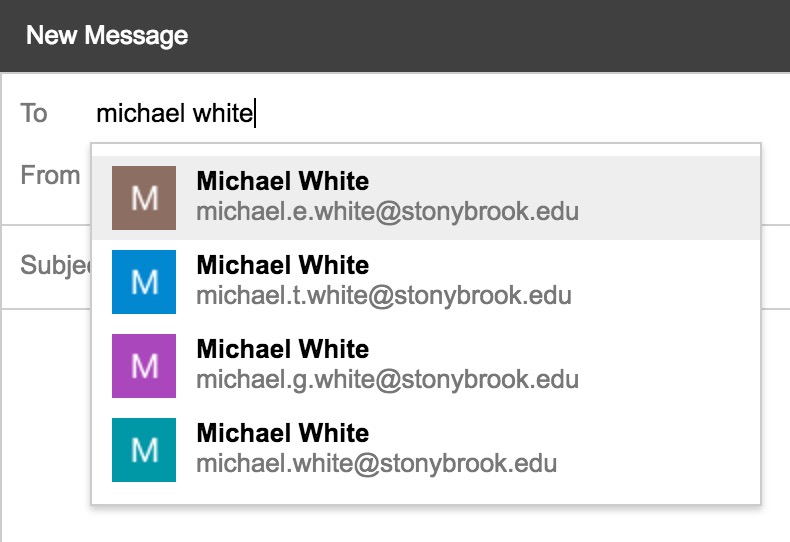 To make sure you are sending emails to the correct person, it's a good idea to look the person up and verify who they are in Google Contacts.
Find and Mark the Correct Email in Google Contacts
In Google Contacts (www.google.com/contacts), type the person's name into the search bar and click the magnifying glass button
If results include more than one person, click on a name to see more details (status, department) about the contact
When you find the correct contact, click on the contact to view full details; then click the pencil to edit

In edti view at the bottom, click More fields
In the Suffix field, add a note or department name to help you know it's the correct contact (This change will not sync with the Stony Brook Directory, but when you email that contact, he/she will see how you've modified his/her name). Click Save

Back in Gmail, refresh your screen, then start a new email and type that contact's name, and the contact's name as you modified it will appear so you'll easily know which contact to use