This KB Article References:
Google Contacts
This Information is Intended for:
Faculty, Staff, Students, Teaching Assistants
Last Updated:
March 22, 2017
Stony Brook University's Google Contacts Directory includes all faculty, staff, and students at all Stony Brook campuses, and in some cases more than one person shares the same (or a similar) name. Because of this, it is especially important for senders to be sure they have the correct contact.
When you type a name in the To field of an email, Google gives suggestions, but if there are multiple contacts with the same name, it can be hard to know, from these suggestions, which is the correct email address: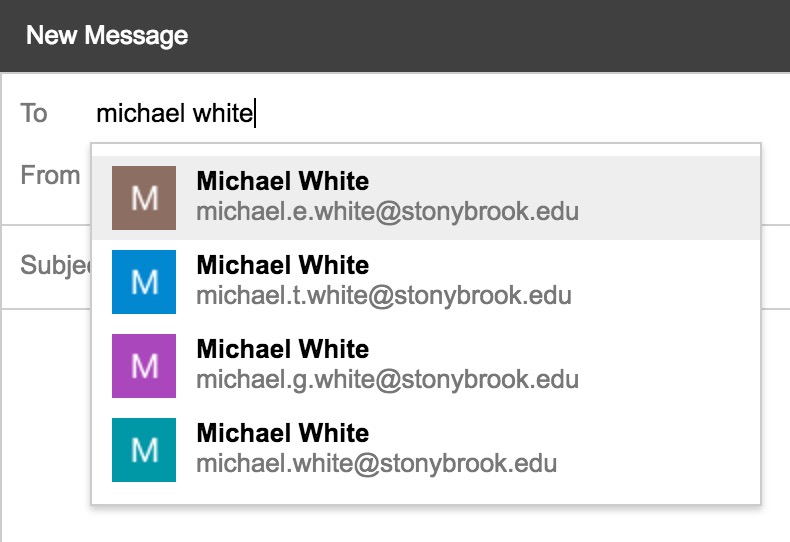 To make sure you are sending emails to the correct person, it's a good idea to look the person up and verify who they are in Google Contacts.
Find and Mark the Correct Email in Google Contacts
In Google Contacts (www.google.com/contacts), type the person's name into the search bar and click the blue magnifying glass button
If results include more than one person, click on a name to see more details (status, department) about the contact
When you find the correct contact, click on his/her name and add a note (e.g., department name) to help you know it's the correct contact. This change will not sync with the Stony Brook Directory; however, when you email that contact, he/she will see how you've modified his/her name. 

Hit enter/return on your keyboard to save the change
Next time you start typing that contact's name in an email, for example, the contact's name as you modified it will appear so you'll easily know which contact to use

View a short video in YouTube (3:08)