This KB Article References:
Brightspace
This Information is Intended for:
Students, Teaching Assistants
Last Updated:
March 17, 2023
Average Rating:
Not Rated
Your feedback is important to us, help us by
logging in
to rate this article and provide feedback.
If you would like to send an email to all of your instructors at once from Brightspace, check out this video:
Or view these instructions:
Once you are logged into Brightspace, select the envelope icon at the top of the page
Select "Email"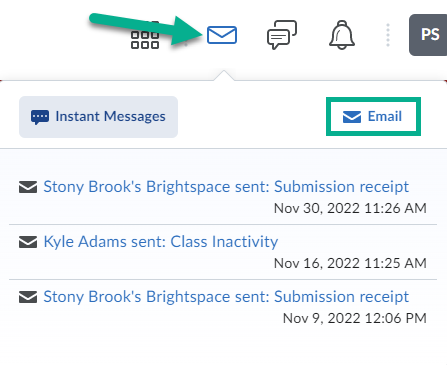 Click on the "Address Book" button

Make sure you are filtered by "System Contacts"
On the contact table, click on "Role" to filter each users role alphabetically. This will organize all Instructors together.

Choose the select box for each of your instructors
Click on the "To", "Cc", or "Bcc" buttons to choose which fields these contacts will be in

Select "Add Recipients"
Type your message in the "Body" field and then select "Send"