This KB Article References:
Brightspace
This Information is Intended for:
Faculty, Students
Last Updated:
December 29, 2022
Average Rating:
Not Rated
Your feedback is important to us, help us by
logging in
to rate this article and provide feedback.
ALLY is now available in Brightspace. This feature is automatically available within Brightspace and will allow students to download course materials in ePub, Electronic Braille (BRF), Audio (MP3), and BeeLine Reader.
Students can download different formats of course materials by clicking on the ALLY icon.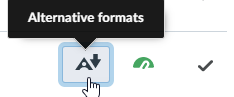 Faculty can check each course item by clicking on the accessbility score.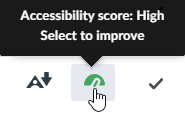 Learn more about ALLY: