This KB Article References:
Digication ePortfolios
This Information is Intended for:
Clubs, Faculty, Researchers, Staff, Students, Teaching Assistants
Last Updated:
August 11, 2020
Average Rating:
Not Rated
Your feedback is important to us, help us by
logging in
to rate this article and provide feedback.
To add content to your ePortfolio, click the blue plus button in the bottom right hand corner of the screen to be brought to the content library.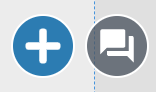 The most typical content types you will use are:
Section: Sections hold other forms of content such as text boxes, uploaded files or photos. Each section has a unique background and having muliple sections can help visually break up your ePortfolio page.
Rich Text: Text boxes.
Google Drive: You can connect to your Google Drive and upload files directly into your ePortfolio.
Upload File: You can upload photos, videos, PDFs and Microsoft Office Files. If you upload multiple files at once they will create a gallery.
Previously Uploaded: Contains photos and files you have uploaded before. Useful if you want to use consistent backgrounds across your eportfolio.
Other content types appear under "More Ways to Add Content" or under the subjects under the search bar:

Table: Creates a data table.
Take Picture/Record Video/Record Audio: If your webcam is enabled, you can take a photo or video to be directly uploaded. Your microphone will need to be enabled for video or audio recording.
GitHub: Link to GitHub account, a site for code sharing/publishing as well as a social networking site for programers.
Box.com: Link to Box.com account, a collaborative drive for file sharing.
Embed: Insert a link to a different webpage; will be accompanied by a predetermined blurb about the linked page.
note: Embed Youtube videos will be playable directly in your ePortfolio.
Credly: Link to Credly accont, a site that houses verified digital credentials and certifications.
Equation: Inserts and opens Equation Editor to type equations into text boxes using LaTeX, MathML or ASCllmath syntax.
note: Also avalible through the edit bar on a rich text box.
Additional content types and where they are housed:

[Under Image] Getty Images URL: If you find an image you like on Getty Images you can copy the page URL (not through the embeded link they provide) and paste it here to embed the image in your ePortfolio.
[Under Sound] Sound Cloud URL: Copy and paste the page URL for the desired song. It will be embeded and playable through your ePortfolio.
[Under Social/Embed] There are a collection of websites listed that you can create an embeded link from. You do not need to select the specific website to create the embeded link, they will all work. (i.e. you can paste a link to Intagram into the Facebook link embeder: they will all work the same way as the basic Embeded Link option)
[Under Form] There are various types of Forms you can create:
Checkbox; Multiple Choice; Dropdown; Tag
To delete content from your ePortfolio hover over the item and then click the trash can that appears among the other editing options on that item.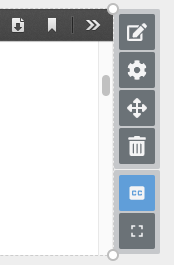 You will be asked to verify by typing in "Delete" as Digication does not have an undo function.