This KB Article References:
Google Groups
This Information is Intended for:
Clubs, Faculty, Staff, Students, Teaching Assistants
Last Updated:
August 11, 2020
Average Rating:
Not Rated
Your feedback is important to us, help us by
logging in
to rate this article and provide feedback.
If your team is made up of several smaller teams and you want to manage communication with both the smaller teams and the whole team, you can set up Google Groups to do this by adding team members to the smaller groups and then adding the smaller groups to the larger group: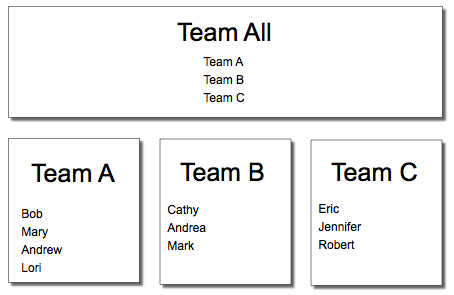 This way you can communicate with Team A, for example, separately, or the whole team through Team All. If your team members change, you'll only need to modify the member from the smaller team. If you share in Drive, create events in Calendar, and send email using these teams, you'll always know you're reaching the exact team members you need to!
Before you can set up the groups, you'll need to request separate Google Groups for each smaller team and the larger team: Request a Google Group
I. Set Up a Small Group
Click on the name of one of your small groups, e.g. "Team A", and then click About near the top right

Copy the small group's email address, e.g., abcdepartment@stonybrook.edu
Click the arrow button near the top left to return to the small group's main page and click Manage near the top right
On the left, click Permissions and then Basic Permissions
In the Post section, click Select groups of users and be sure All organization members is selected
Click Save

II. Add a Small Group to a Large Group
Click on the name of your large group, e.g. "Team All", and then click Manage near the top right
On the left under Members, click Direct add members
Paste the email address of the small group (copied in step 3 above) into the field "Enter email address to add as members" and click Add
Repeat the above steps to add set up the small groups and add them to the large group.