This KB Article References:
Brightspace
This Information is Intended for:
Faculty, Researchers, Staff, Students, Teaching Assistants
Last Updated:
May 15, 2023
Average Rating:
Not Rated
Your feedback is important to us, help us by
logging in
to rate this article and provide feedback.
Brightspace users will get notifications of course announcements, grade releases, discussion replies, and more through the Notification Bell near the top right of Brightspace (An orange dot on the bells means there are new notifications). Click the notification bell to see the notifications, which course the notification is for, and when the notification was sent: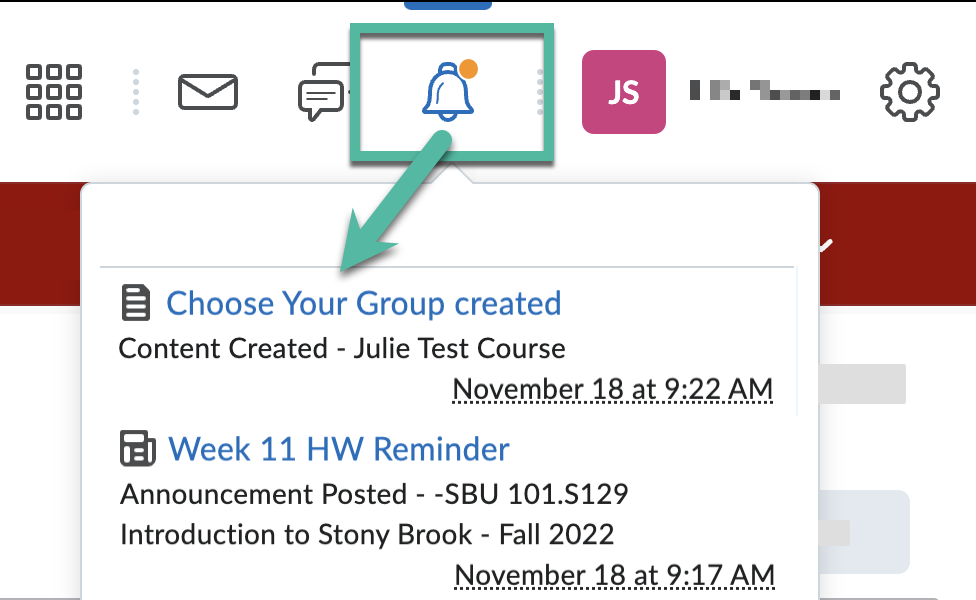 In addition to seeing notifications in the bell, you can also choose to receive emails and/or SMS text messages with course updates by updating your notification settings.
Update Your Notification Settings
Update your notification settings to receive (or not receive) course update notifications by email or SMS:
Log into Brightspace
Near the top right, click your name/initials and select Notifications
Under Contact Methods, register your mobile phone number if you'd like to get any SMS notifications
Under Summary of Activity, choose if you'd like to get a daily or weekly summary of activity for each of your courses

Under Instant Notifications, check or uncheck options as desired.
For example, to get notifications in your email for all new announcements and announcements updated check Email for those two

Under Customize Notifications, choose whether to include grades in notifications from Grades and/or whether to allow future courses to send notifications

You can exclude some courses - so you don't get email/SMS instant notifications selected in step 5 for those courses:


Under Exclude Some Courses, click Manage my course exclusions.

For any courses you don't want instant notifications for click the X to the right of the course to exclude it from notifications (the course will then be grayed out with a circle arrow restart notifications icon)
Click Close


At the very bottom, click Save to save your notification settings