This KB Article References:
SOLAR for Faculty & Staff
This Information is Intended for:
Faculty, Staff
Last Updated:
August 11, 2020
Average Rating:
Not Rated
Your feedback is important to us, help us by
logging in
to rate this article and provide feedback.
Should you need to email all students in your class, we recommend you do so via Blackboard. (https://it.stonybrook.edu/help/kb/send-email-to-students-through-blackboard)
If you prefer to use the email tool in SOLAR, you will need to select fewer than 100 students at a time and send out multiple emails. The "Notify" option found on the SOLAR Class Roster page only works for fewer than 100 students at a time. Lists can be separated as needed and sent multiple times. Below are panel shots of this process.
Step 1:
Step 2: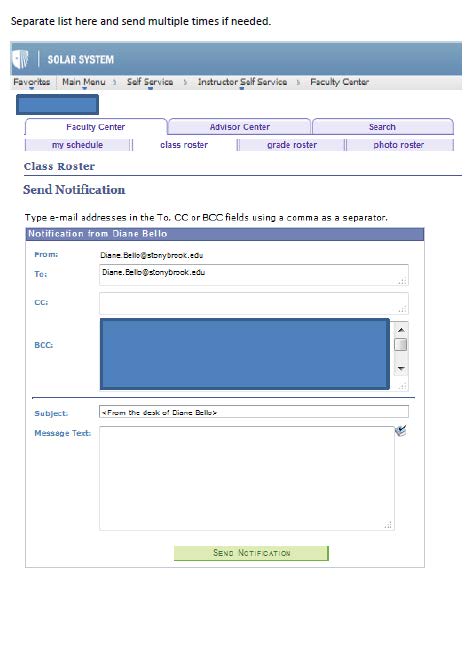 Should you have any questions, please contact Jaime Wicks in the Registrar's Office or TLT's support team at (631) 632-2777.