This KB Article References:
Qualtrics
This Information is Intended for:
Clubs, Faculty, Postdocs, Researchers, Staff, Students, Teaching Assistants
Last Updated:
August 11, 2020
Average Rating:
Not Rated
Your feedback is important to us, help us by
logging in
to rate this article and provide feedback.
Qualtrics emails are whitelisted and do not go to spam. However when you forward these Qualtrics messages they go to spam.
• Will not get spammed: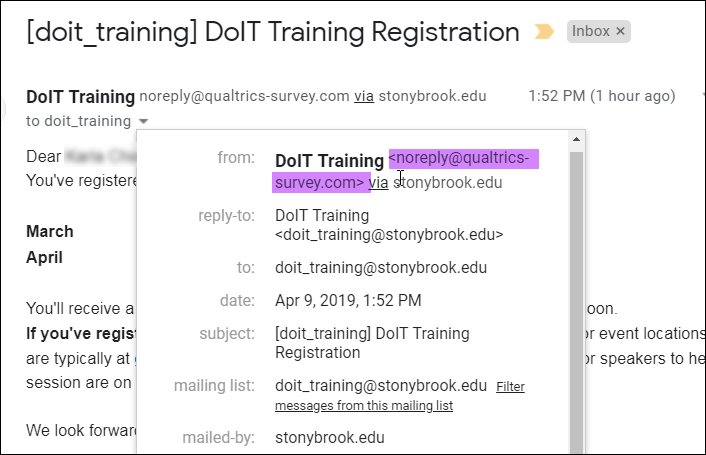 • WILL GET SPAMMED: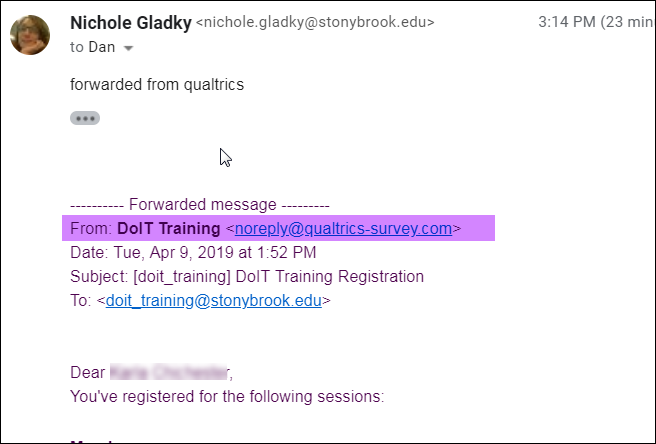 Solution:

Remove the From: section of the forwarded message, the highlighted part, before sending. It's the <noreply@qualtrics-survey.com> that is causing the problem.
We think Google flags this as a forwarded, spoofed email.
Extra Information:
You can see if a message was marked as spam by the MTA (our mail transfer agent) by clicking on the 3 dots > Show original.
If it was spammed it will have the tag X-GM-Spam: 1 right before the Content-Type.