This KB Article References:
Google Groups
This Information is Intended for:
Clubs, Faculty, Guests, Researchers, Staff, Students, Teaching Assistants
Last Updated:
March 03, 2021
Average Rating:
Not Rated
Your feedback is important to us, help us by
logging in
to rate this article and provide feedback.
If you are a manager of a group, you can allow or restrict posting to the group.
Go to your groups at groups.google.com
Click My groups (either on the top left or in the center).
The next screen lists the groups you belong to; click the gear next to the name of the group you want to work on.

Scroll down to Who can post. Select the group that can post.

5. To ensure members can post to the group via email make sure "Allow Email Posting" is checked under Posting Policies.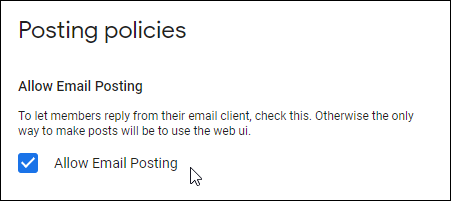 *To prevent members from email the group uncheck this setting and select Group Managers under Who can post.