IBM SPSS Statistics
SPSS is a statistical and data mining software package that allows you to analyze research data to make smarter decisions, solve problems and improve outcomes.
How to Obtain This Software
Students
Stony Brook students can access SPSS at no charge from any of the DoIT-managed SINC Sites on campus and the Virtual SINC Site,  or by direct download through Softweb. 
If students are interested in renting their own six or 12-month licenses, they can go to OnTheHub.com for special academic discount options. Academic verification is required, so students must use an @stonybrook.edu email address when creating their OnTheHub.com account. Once their Stony Brook University academic affiliation is confirmed, students may rent and download the license that suits their needs. OnTheHub.com accepts PayPal, Visa, MasterCard and American Express for payment.
Faculty/Staff
SPSS is available at no charge to faculty, staff, and students through the 
Virtual SINC Site
, or by direct download through 
Softweb
. 
Commuter Licenses
Commuter licensing allows you to use a temporary network license for SPSS on a computer that is not connected to the Stony Brook network.  Commuter Licenses are available for 7 days.
This Software is Available for Use in the Following Labs
- The Central Reading Room has 46 available Windows PC's, 4 available printers with Pharos Release Stations supported by DoIT.
- Reading Room schedules reflect only DoIT student assistants & printer availability
- Printers close down 30 minutes earlier than the Library schedule
The Melville Library - North Reading Room has 42 available Windows PC's, 3 available Pharos Release Stations and 2 Scanners, supported by DoIT.
- The Main Library SINC Site has 72 Windows PCs with 6 scanners, 20 iMacs with 2 scanners.
- There are 4 available printers with a pharos release station.
- Plus 5 available Windows walk-up PC's with direct printing and 1 walk-up Mac printing station.
- A Consultant is always available to assist with technical and printing issues.
***Main Library SINC Site will CLOSE as of the end of the day on May 6, 2022
Main Library SINC Site will remain CLOSED until the Fall '22 semester for renovations.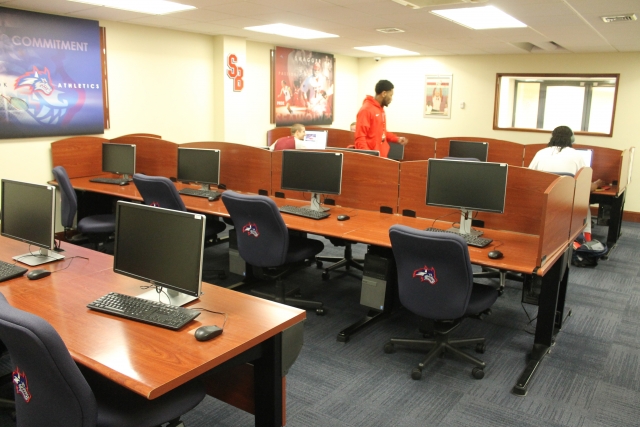 The Sports Complex SINC Site (Goldstein Center) has 24 Windows PC's and one printer with a Pharos release station.