Microsoft Project
Microsoft Project provides project management tools that blend usability, power, and flexibility to help develop and manage plans, track progress, manage budgets and analyze workloads more efficiently and effectively.
Faculty
Faculty can purchase Microsoft Project for $60.60 under the Microsoft Select License for University and Hospital owned machines only.
This Software is Available for Use in the Following Labs
- The Central Reading Room has 46 available Windows PC's, 4 available printers with Pharos Release Stations supported by DoIT.
- Reading Room schedules reflect only DoIT student assistants & printer availability
- Printers close down 30 minutes earlier than the Library schedule
The Melville Library - North Reading Room has 42 available Windows PC's, 3 available Pharos Release Stations and 2 Scanners, supported by DoIT.
- The Main Library SINC Site has 72 Windows PCs with 6 scanners, 20 iMacs with 2 scanners.
- There are 4 available printers with a pharos release station.
- Plus 5 available Windows walk-up PC's with direct printing and 1 walk-up Mac printing station.
- A Consultant is always available to assist with technical and printing issues.
***Main Library SINC Site will CLOSE as of the end of the day on May 6, 2022
Main Library SINC Site will remain CLOSED until the Fall '22 semester for renovations.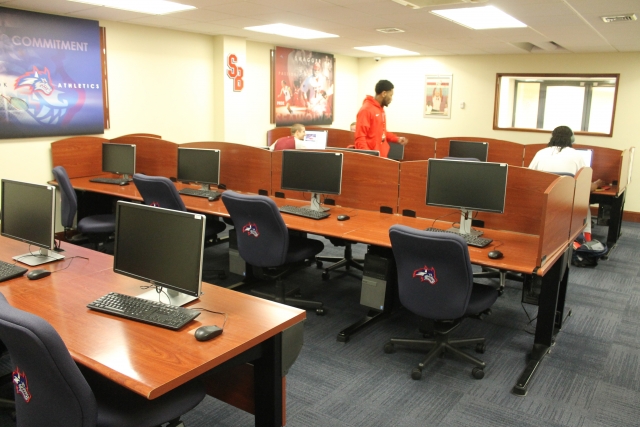 The Sports Complex SINC Site (Goldstein Center) has 24 Windows PC's and one printer with a Pharos release station.