Audacity
Audacity is a program that allows users to edit and record audio files.
Audience: Clubs, Faculty, Staff, Students and Teaching Assistants
This Software is Available for Use in the Following Labs
The Fine Arts eMedia SINC Site has 22 Apple Mac Pros, M-AUDIO Oxygen25 MIDI keyboards, M-AUDIO FireWire Solo Audio Interfaces, Audix OM2 microphones, stereo headphones, 5 Epson scanners with 1 large format scanner, Video Ingest Stations (VHS, S-VHS, Mini-DV, DV, DVCAM), Wacom tablets, a teacher station, data projector and a Pharos printer.
The Fine Arts Hybrid SINC Site has 21 Apple iMacs, M-AUDIO KeyStudio 49i MIDI keyboards, Korg Kontrol Slim-Line USB controllers, Microphones, stereo headphones, Wacom tablets, Epson scanners, a teacher station, data projector and a Pharos printer.
- The Melville Library SINC Site has 105 windows pcs with 6 scanners, 20 iMacs with 4 scanners.
- There are 4 printers with a pharos release station.
- Plus 5 Windows walk-up PC's with direct printing and 1 walk-up Mac printing station.
- A consultant is always available to assist with technical and printing issues.
The Physics SINC Site has 12 Mac PC's, one Smartboard and one printer with a Pharos release station.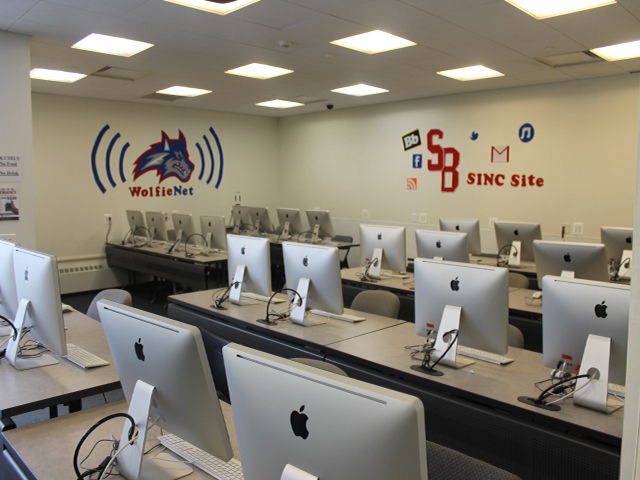 The Tabler Center computer lab is open the same hours of operation as the building. Check web page for current hours.