By: Kerrin Perniciaro
Last Updated: February 23, 2016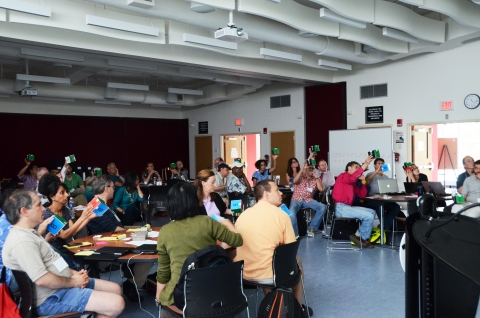 The Teaching, Learning & Technology (TLT) Faculty Center helped support Stony Brook University's first in-house Summer Institute for Undergraduate STEM Education July 7-10, 2014 in the Center for Global Studies and Human Development. Nearly 25 faculty participated, including 20 from Stony Brook and five others from Suffolk County Community College and SUNY Old Westbury. The event, hosted in partnership between the Center for Science and Mathematics Education (CESAME) and the Program in Undergraduate Biology, consisted of a series of workshops, talks, and group presentations focused on the topics of active learning, prior learning, assessment, and diversity.
"It's a lot of fun and it's very productive," said physics professor Robert McCarthy, an instructor at Stony Brook for 40 years. "This workshop helped me understand the needs for objectives and learning goals. Also, in the past, I was afraid that assessment meant trying to help administrators make sure that we satisfied particular goals. I see less of that now and understand how assessment can be used to benefit students."
TLT played a crucial role in supporting the event. Patricia Aceves, Director of the Faculty Center, served on the organizing committee (she also served on the organizing committee last summer when Stony Brook hosted the National Academies Summer Institute) and also led a presentation on the many services that TLT can provide to assist faculty in improving education. Jennifer Adams, an instructional technologist in TLT, helped configure iPads for the event's participants, making sure the tablet devices were outfitted with applications useful to educators, like chemistry professor Joe Lauher, who uses an iPad when teaching organic chemistry in Javits 100. During his talk on active learning, Lauher encouraged faculty to think about ways to get out from behind the podium.
The tablet computers provided by TLT are now on loan to Stony Brook participants to use to foster new and innovative ways of teaching in STEM disciplines.
"So, I now have an iPad!" said J. Peter Gergen, Professor of Biochemistry and Cell Biology and one of the organizers of the event.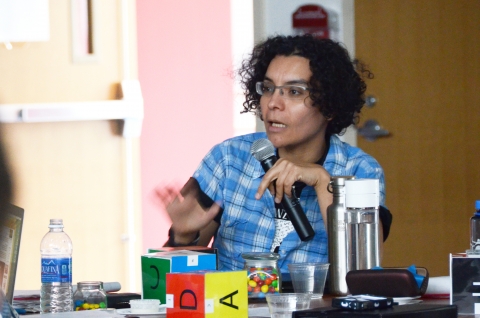 Adams loaded the iPads with educational software such as Doceri, an application that allows instructors to use their tablet as a whiteboard. All instructional materials - PowerPoint presentations and background research - is online in Google Drive and can be downloaded onto the iPads and incorporated into a lesson.
CESAME started in 2007, but had formerly been a group called LIGASE (Long Island Group Advancing Science Education) until Keith Sheppard arrived, a tenure track faculty member in Biochemistry and Cell Biology whose research was focused on education and who now serves as CESAME's director. LIGASE transformed into a center and now there are five tenure track faculty involved with joint appointments in CESAME and a science department (Ecology and Evolution, Biochemistry and Cell Biology, Physics, and Chemistry).
"Our overall goal is to improve STEM education," said Sheppard.
Stony Brook has been participating in a national movement that started in biology education in 2004. It actually hosted the Northeast Regional Summer Institute last summer which had about 36 faculty from 18 institutions across the northeast. In 2011, it was held at Yale, in 2012 it was at Harvard, in 2013 Stony Brook, 2014 Harvard again, and next year it's going to Princeton.
"So, the Ivy Leagues are in good company," joked Gergen.
"Because of our involvement in the National Academy Summer Institutes, we now have more than 20 Stony Brook faculty that have participated from six different departments including Physics, Chemistry, and Applied Math. So, this reaching out to other STEM disciplines started and there's been a committee to think about undergraduate STEM education. The committee talked about it and there was wide agreement from everyone that we ought to do something in-house across the STEM departments. That was one of the major recommendations from the committee this past year, so CESAME took the lead in organizing this event. Because we hosted the National Academies here at Stony Brook last summer in undergraduate biology, we took our experience and put it together with the scholarship of CESAME to co-organize and bring people together," said Gergen.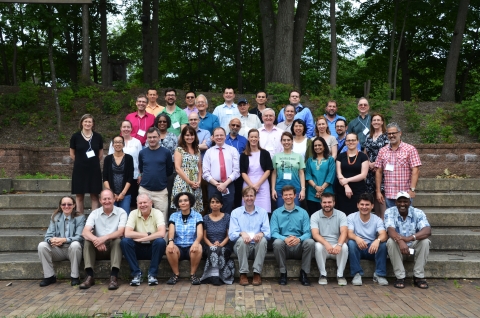 "It's pretty remarkable, actually, that people who didn't know each other Monday night, are now working in teams to put presentations together," said Gergen. "There are people from Suffolk Community College which is a major feeder school for us, as well as colleagues from SUNY Old Westbury that are here, and the network that we are creating between STEM faculty across these three institutions is really, really important."