By: Nicholas Batson
Last Updated: February 15, 2019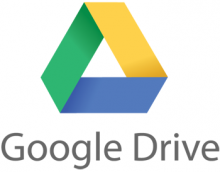 What is Google Drive?
Google Drive can be used to create, store, and share documents, presentations, spreadsheets, drawings, forms, audio and video files, PDFs, and much more. In Google Drive, you can upload and view the following types of files:
Image files (.JPEG, .PNG, .GIF, .TIFF, .BMP)
Video files (WebM, .MPEG4, .3GPP, .MOV, .AVI, .MPEGPS, .WMV, .FLV)
Text files (.TXT)
Markup/Code (.CSS, .HTML, .PHP, .C, .CPP, .H, .HPP, .JS)
Microsoft Word (.DOC and .DOCX)
Microsoft Excel (.XLS and .XLSX)
Microsoft PowerPoint (.PPT and .PPTX)
Adobe Portable Document Format (.PDF)
Apple Pages (.PAGES)
Adobe Illustrator (.AI)
Adobe Photoshop (.PSD)
Tagged Image File Format (.TIFF)
Autodesk AutoCad (.DXF)
Scalable Vector Graphics (.SVG)
PostScript (.EPS, .PS)
TrueType (.TTF)
XML Paper Specification (.XPS)
Archive file types (.ZIP and .RAR) 
Reasons People Love It
User-friendly
Unlimited storage for Google Documents - up to 5GB of storage for other file formats
You can upload and convert existing files into the Google format
More than two people can simultaneously edit documents (there's no check-out required)
You can create folders to help organize your documents and then share entire folders with others
View revision history
Set email notifications
Ability to work offline
Mobile access
Allows for comments
Chat feature
Where You Can Use It
You can use Google Drive anywhere. Google Drive can be accessed on the Web from any browser on any operating system. You can also download a Google Drive app for Windows and Mac OSX computers (not yet available in Stony Brook SINC Sites, but you can still access Drive in SINC Sites via the Web). Google Drive apps for iOS and Android devices are also available. Use Google Drive to ensure that you have access to all of your files anywhere you have access to the Internet.
Cool Ways to Use It
Keep all your files and documents in one place with Google Drive.
No longer be tethered to email attachments. With Google Drive you can work with others on the same document, at the same time. When you need to send the document, simply share it with another user. Avoid the confusion of trying to remember whether you are working with the latest version of a document and or whether or not you remembered to rename it. With Google Drive, you are always working on the latest version unless you choose to revert back to an earlier one. Yes, Google Drive even offers version control!
Create a shared folder for your course, club, organization, or study group so everyone can have access to important documents.
Take notes for your class or meeting using Google Drive and share it with attendees, even allowing them to contribute feedback.
Never worry about forgetting to bring your resume to an interview or career fair! Upload your resume into Google Drive so you can access it from any device at any time.
Collaborate on one presentation with others from different locations without sending attachments.
Maintain Original File Formats
If the document you are working on requires special formatting, you may not want to have Google convert documents for you into its native Google Docs format when you upload them into Drive. For instance, you may want to keep the header, footer, bullet, and heading styles you chose when you first created your document using Microsoft Word. No problem. Google allows you to upload the document while maintaing all of your Microsoft Word formatting. Simply go into your Google Drive settings before you're ready to upload and select Upload Settings > Confirm settings before each upload. See more under Maintaining File Formats in Google Drive.
Take Care With Who You Share
When you share your work with others through Google Drive, take a moment to consider your sharing settings. Since you have the option whether to make documents private, public, or shared with only those who have the link, it's best to take a moment to think about the consequences of what could happen if your document wound up in the wrong hands. For students, in particular, it's important to protect academic work in Google Drive.
Sign Up for a Training Class or Workshop
DoIT offers students, faculty, and staff hands-on Google Drive and Docs workshops. Register for a class today or send an email to doit_training@stonybrook.edu to arrange for a session.
More Information
Visit the Google Drive support pages to learn more.