By: Olivia Sawyers
Last Updated: March 22, 2017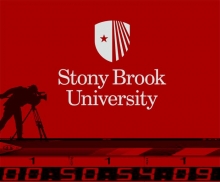 On Friday, June 24, 2016, the Stony Brook University Video Production Group was recognized for its outstanding work in visual arts at the 37th Annual Telly Awards.  With nearly 13,000 entries from all 50 states and numerous countries, this year's Telly Awards was one of the most successful and competitive in the long history of the Telly Awards.
The following Stony Brook University Video Production Group submissions were honored at this year's awards:
Lab Safety  (Silver)
CEWIT Overview  (Bronze)
https://www.youtube.com/watch?v=NMufHUvm6F4
Holiday Video: PEACE  (Bronze)
https://www.youtube.com/watch?v=4oAG5NWMfDQ
Holiday Video: Carol of the Bells  (Bronze)
https://www.youtube.com/watch?v=_7mLV-ici9c
The Telly Awards honor the very best film and video productions, groundbreaking online video content, and outstanding local, regional and cable TV commercials and programs. The Telly's mission has been to strengthen the visual arts community by inspiring, promoting, and supporting creativity. 
Entries are judged against a high standard of merit. Judges score entries on a performance scale  and winning entries are recognized and awarded as Silver or Bronze Winners, with Silver being the organization's highest honor.
Winners represent the best work of the most respected advertising agencies, production companies, television stations, cable operators, and corporate video departments in the world. 
Stony Brook University's Video Production Group is led  by William Cusick.