By: Marcko Sicoco
Last Updated: May 03, 2016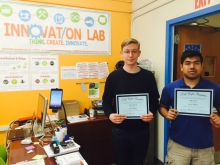 Ahsanul Torza and Frederick Kozwolski won the Innovation Lab's 3D the Campus competition on April 20, 2016, an event to introduce virtual reality to the campus community. Their team, the Samurai Piledrivers, took 32 photospheres that captured different elements of the Stony Brook campus. All of the photos submitted were judged based on their originality, creativity, innovation, and quality by a panel of judges made up of faculty and students. Torza and Kozwolski had the highest scoring submissions as well as the most liked photo on the Innovation Lab Instagram page. The runner-up for the competition was Team Authorized Access (Mark Lang, Richard Von Rauchhaupt, and Alex Sneddon).
Each winner received a gift certificate to Starbucks courtesy of The College of Business. They also received 3D-printed Stony Brook logos for having the most liked photo on Instagram.