By: Kyle Adams
Last Updated: March 14, 2022
Microsoft has announced that it will stop supporting Internet Explorer 11 on June 15, 2022.  It will be removed from any device it is installed on after that date as a part of the regular Windows Operating System patching cycle.
Microsoft will no longer provide support or patches. Therefore it is recommended that you start using a modern browser if you haven't already. 
There are a few applications that use the unique features of IE.  Should you have such an application and find that your application does not work in another browser, you have two options: 
Contact the vendor, and update said application as soon as possible.
Use the Internet Explorer Compatibility Mode Extensions of the Edge browser. 
Reference Links
Lifecycle FAQ - Internet Explorer and Microsoft Edge
Download Microsoft Edge Web Browser
Import favorites in Microsoft Edge
Open Microsoft Edge and select "Settings and more" at the window's top corner.
Select: Favorites > Import.
Under Import From, select the browser you want to import your favorites from or select Favorites or bookmarks HTML file.
Choose what you want to import from the browser or choose the file you want to import.
When the import is complete, you'll see a notification.  Select Done. 
If you imported from a file, you'd find your imported favorites in a folder on the Favorites bar. The folder may be called Imported.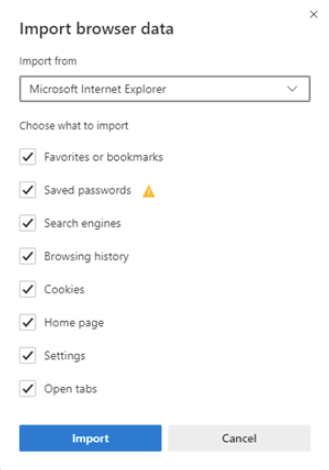 Questions
If you have any questions or concerns, please contact your local support or the Service Desk at 2-9800.