By: Julie Sharma
Last Updated: December 01, 2021
To better protect your personal information and the University, Duo Security two-step login is going to be required for all Students starting on Monday, December 20th, 2021 to access Single Sign-On protected applications, which includes widely used services such as Email and Zoom.
What does this mean for me?
If you do not already use Duo, prior to December 20th you must register a device (preferably two) to enjoy continued, uninterrupted access to Single Sign-On protected applications.
How do I register?
Visit the Duo two-step login service page and click the "Request a Duo Account" button as soon as possible.
What will happen after I register?
After you sign up for Duo, when logging into a Single-Sign On protected application, such as email or Zoom, you will enter your NetID and password like usual and then subsequently approve the login via Duo push approval or a phone call. Only after this approval will you be able to get into the system.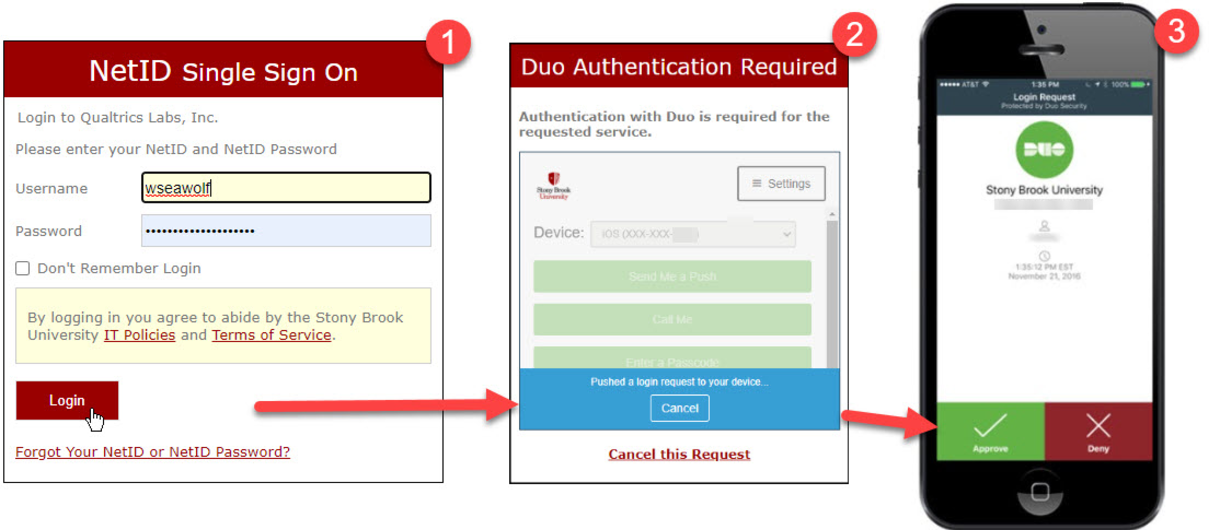 What will happen if I do nothing?
On or shortly after December 20th, when you attempt to access a Single-Sign On protected application you will be prompted to enroll prior to accessing the system.
Will any other existing groups be affected by this change other than Students?
No, but staff and faculty are already required to use Duo. All new NetIDs issued also require enrollment in Duo and many students are already enrolled voluntarily.
How to Prepare for this Change
Contact Us
As always, if you have any questions or need additional support, you can contact our department by opening a service request at https://service.stonybrook.edu, or by calling 631-632-9800.