By: Kerrin Perniciaro
Last Updated: March 22, 2017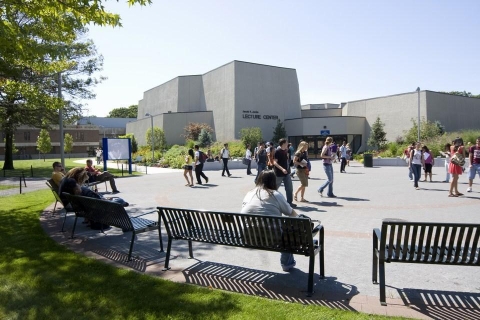 In response to the TechQual+ survey results DoIT collected last spring from students who indicated a desire for wireless connectivity in the Javits Lecture Center, DoIT's Data Network Services team deployed Aruba's 802.11ac Wi-Fi solution in Javits on Aug. 23, 2013. The upgrade accommodated a dramatic increase in mobile and wireless devices that the University's 24,000+ students and 12,000+ staff are using on campus. 
Stony Brook had an existing Aruba Networks wireless LAN (WLAN) that covered the majority of the campus and is comprised of 3,000 Aruba 802.11n access points. In the University's Javits Lecture Center, 10 lecture halls are used by approximately 17,000 students weekly, with an average lecture hall holding 200 students and the largest accommodating more than 500. As students in the Lecture Center are increasingly bringing multiple mobile devices to class and relying on the wireless network, Stony Brook recognized the need to upgrade the Center's wireless infrastructure to meet the rigorous performance and density demands. The University deployed 44 Aruba AP-225 802.11ac access points to cover the Lecture Center's 10 halls.
"We've seen a remarkable increase in mobile and wireless devices on campus and this has resulted in extraordinary demand on our wireless network," said James Hart, Director of Network Services at Stony Brook University. "With nearly 1,000 mobile devices accessing the network from Javits Lecture Center alone, and this number expecting to increase, it was clear that we needed to make the move to 802.11ac in high density areas to support our students' and faculty's use of the network."
According to Hart, both students and staff have been enthused about the speed and reliability of the 802.11ac network. The University's IT department has also been encouraged to see that client devices are achieving speeds of up to 450Mbps, and that support calls have been minimal since the Javits Lecture Center was upgraded. Stony Brook's professors are increasingly using the wireless network in the classroom, connecting their iPads to project content onto classroom screens and using the iPads to interact and answer student questions during lectures.
Mike Ospitale, Campus Network Manager for Stony Brook, commented, "Having a high-performing 802.11ac infrastructure now allows us to expand our capabilities in the classrooms. We plan to increase our use of Apple TVs, for example, as well as use Aruba's AirGroup to make plug-and-play network services like Apple AirPlay and AirPrint available to students' and teachers' mobile devices. All around, the wireless network supports a much more interactive classroom."
In addition to the Javits Lecture Center, Stony Brook plans to expand 802.11ac access to its brand new Stony Brook Sports Complex, an indoor arena containing more than 4,000 seats. Working with Aruba, the University has already completed the design phase and expects to deploy 35 additional Aruba 802.11ac APs for the arena's wireless access.
Stony Brook is already in the planning process for extending 802.11ac to more areas of its campus in 2014. The University's residence halls, which experience similar high density challenges as the lecture halls face, will be first on the upgrade list.