By: Kerrin Perniciaro
Last Updated: March 22, 2017
Microsoft has released Office 2013, the latest version of its productivity software suite (Word, Excel, PowerPoint, Access, Publisher, OneNote, Outlook, etc.) and Client Support will be installing it on the University-owned computers it supports beginning in June 2013. 
Each installation will run overnight, which will require users to leave their computers powered on. Once the installation is complete, users will see new icons on their desktops to access Microsoft Office: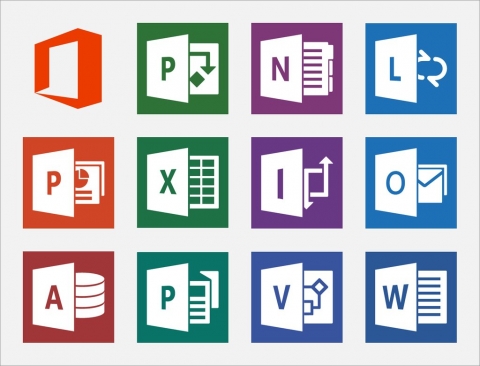 Users can expect very little change to the Office 2013 interface compared to Office 2010. The  DoIT training staff has compiled the following links for members of campus to get a sneak peek of the new software:
If you have any questions or concerns about the Microsoft Office 2013 software upgrade, please feel free to contact Client Support.
Deployment Schedule
| | |
| --- | --- |
| Date | Department |
| June 20, 2013 | DoIT (All Staff) |
| July 1, 2013 | President's Office |
|   | Provost's Office |
|   | VP Admin |
|   | Legal |
| July 8, 2013 | Media Relations |
|   | Stony Brook Manhattan |
|   | Human Resources |
| July 15, 2013 | Financial Aid |
|   | Admissions |
|   | Stony Brook Foundation |
|   | Labor Relations |
| July 22, 2013 | Registrar |
|   | Student Accounts/Bursar |
|   | EAP |
|   | Affirmative Action |
|   | Office of Institutional Research |
| Aug. 5, 2013 | Dean of Library |
|   | Orientation |
|   | Career Center |
|   | EOP |
| Aug. 12, 2013 | Sustainability Studies |
|   | Academic Advising |
|   | Transfer Office |
|   | Procurement |
|   | Undergraduate Colleges |
| Aug. 19, 2013 | Disability Support Services/ADA |
|   | Budget |
|   | Enrollment Planning and Management |
|   | Advancement |
|   | Dean of Students |
|   | Graduate School |
| Aug. 26, 2013 | Athletics |
|   | Automotive |
|   | WCPP (Lock Shop, Heating Plant, etc.) |
|   | Recycling |
|   | Conferences and Special Events |
| Sept. 2, 2013 | Central Receiving/Central Services |
|   | Central Stores |
|   | Sea Grant |
|   | College of Business |
| Sept. 9, 2013 | Chemistry |
|   | East Campus Physical Plant |
|   | Center for India Studies |
| Sept. 16, 2013 | Comparative Studies |
|   | Environmental Health & Safety |
|   | Property Control |
|   | Campus Planning, Design, and Construction (CPDC) |
|   | Geosciences |
|   | Parking Enforcement |
| Sept. 23, 2013 | Hillel Foundation |
|   | Hispanic Languages |
|   | History |
|   | International Academic Programs |
|   | Professional Education Program |
|   | Anthropology/Turkana Basin Institute |
| Sept. 30, 2013 | Linguistics |
|   | Music |
|   | Economics |
|   | Grants Management |
|   | Wang Center |
| Oct. 7, 2013 | Ombuds Office |
|   | Internal Audit |
|   | Theater/Art |
| Oct. 14, 2013 | Southampton |
|   | Pollack Krasner House |
|   | Stony Brook Child Care |
|   | School of Professional Development |
|   | International Services |
| Oct. 21, 2013 | Women's Studies |
|   | Writing Program |
|   | Philosophy |
| Oct. 28, 2013 | Transportation and Parking |
|   | Africana Studies |
|   | English |
|   | European Languages |
| Nov. 4, 2013 | Journalism |
|   | Stony Brook Research Office |
|   | Neurobiology |
| Nov. 11, 2013 | Physics |
|   | Small Business Development Center |
| Nov. 18, 2013 | Campus Residences |
|   | Asian and Asian American Studies |
|   | Center for Dance and Somatic Movement |
| Dec. 2, 2013 | Accounting |
|   | Biochemistry |
|   | Biology |