By: Kerrin Perniciaro
Last Updated: March 22, 2017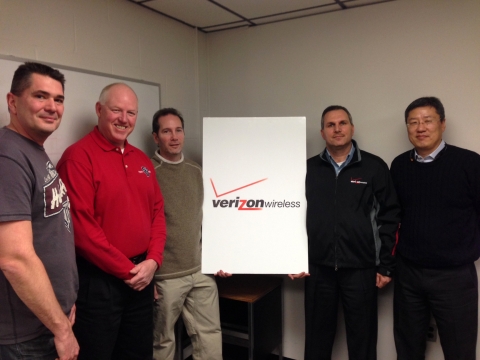 Verizon Wireless customers will notice a big difference when they go to use their smartphones on West Campus this semester. The service provider's voice and 4G LTE services are now covering residence halls and academic buildings with greater capacity than ever before thanks to a distributed antenna system (DAS) that was implemented through the collaborative efforts of Stony Brook University's Division of Information Technology (DoIT), the Center of Excellence in Wireless and Information Technology's Intelibs incubation program, and Verizon Wireless.
DoIT network manager Michael Ospitale was working in Campus Residences back in 2011 when he kept receiving complaints from students in Nobel Halls (Lauterbur and Yang Halls) and the West Apartment complex about poor cell coverage and dropped calls. Ospitale knew there was a start-up company in Stony Brook's Center of Excellence in Wireless and Information Technology (CEWIT) that might be able to help. He contacted Seyong Park, a PhD graduate in electrical engineering from Stony Brook University, who founded and was now presiding over Intelibs, a DAS equipment provider specializing in making small, high-energy machines that run distributed antenna systems with half the energy consumption of other systems.
"Michael Ospitale was the person who took the leadership on initiating this project because he was the one who was directly receiving user feedback," said Jim Hart, DoIT's Director of Data Network Services. "Intelibs did a site survey and measured the signal strengths with their testing equipment and recorded how bad or how good it was. In the end, they recommended going with a DAS solution."
Park and his team quickly learned that because Yang and Lauterbur Halls were built with LEED-certified materials for the purpose of energy savings and efficiencies, a side effect was that these materials were blocking radio signals from the outside. Phase One of the project was to put an indoor DAS system in Nobel Halls. Instead of relying on one cell tower to deliver radio signals, Intelibs installed antennas in multiple locations with the purpose of covering multiple buildings. DoIT contributed existing and new fiber-optic cabling, and the manpower needed to run the fiber out to Nobel Halls, a 600-bed facility.
"This solution makes sense for Stony Brook because it is such a large venue and hard to cover by a single tower, not to mention how many people are using a multitude of different devices all trying to connect at the same time," said Park.
With the support of CEWIT and Stony Brook University, Park's team had the opportunity to improve its product and technologies in Nobel Halls. Once it was determined that antennas could successfully be installed in Yang, Lauterbur, Building 17, and CEWIT, Verizon Wireless became invested in the partnership to deploy DAS throughout the entire campus. Phase Two set out to deploy a full-scale outdoor DAS system throughout West Campus.
"In effect, we are providing the use of our network," said Michael Kleinert, Principle Engineer for System Performance with Verizon Wireless who has been working closely on this project and who coincidentally, also happens to be a graduate of Stony Brook University's electrical engineering and computer science programs. "Verizon Wireless is providing its engineering expertise because that is what we bring to the table – extensive experience in optimizing and building out cellular networks."
Verizon Wireless invested $400 million to improve its wireless network in the New York metropolitan area in 2013 and Stony Brook University has been one of the beneficiaries of that investment.
"Students, faculty, and staff members are heavily using smartphones and smart devices, so this DAS project became more like a solution to provide faster data transfer to these devices," said Park.
4G LTE equals better throughputs for users of Verizon's services. Stony Brook's Verizon Wireless customers will not only notice the ability to access the network with both data and voice in more locations (where previously they may have had trouble), but also faster speeds.
"There are going to be locations that still have their challenges - like some buildings on the outskirts," said Kleinert. "For the most part, accessibility, speed, and the ability to hold calls without dropping them are the three things users will notice as a result of the work that's been done over the past year."
The deployment of the outdoor DAS system went live on New Year's Eve. Kleinert says Verizon Wireless will continue to monitor equipment closely to see how traffic is being distributed between all of the sectors. Some rebalancing may be in order, but everyone involved is committed to making sure the level of service that is needed is being delivered.
"It's really been a terrific collaboration," said Park. "Stony Brook University has excellent support for home-grown, start-up companies. Not only did it give us this opportunity, but the University has been actively involved the entire time, providing technical project feedback and providing us with the engineers to run and install cable and integrate our product into the school-owned infrastructure. This has been a unique business model. Typically, the DAS provider or the wireless carrier runs everything from start to finish, but on the Stony Brook DAS project, Verizon Wireless has served as a dedicated partner while DoIT has managed venue ownership, and Intelibs has served as the DAS solution provider. We worked in unison to determine how to best share our expertise and invest our collective resources to ensure that the communications system offers the best experience for the Stony Brook community."
Photo One (from left to right): Michael White, DoIT Data Network Services; Jim Hart, SB Director of Data Network Services; Michael Kleinert, Principle Engineer for Verizon Wireless; Ali Alijibori, Radio Frequency Engineer for Verizon Wireless; and Seyong Park, President and Founder of Intelibs, a CEWIT Incubation Program.

Photo Two: DoIT's Data Network Services team installing an antenna on the ECC Building.