1001 Error in BlackBoard
If you received an error logging into Zoom from Blackboard, please follow the login instructions here:  https://it.stonybrook.edu/help/kb/getting-started-with-your-stony-brook-zoom-account
Make sure you log in from a private or incognito browser window and you log in to this URL:  stonybrook.zoom.us
2008 Error Code when signing into a Webinar
This error appears if you've set up your online session as a Webinar.   We do not have a license to use the Webinar feature in Zoom.  Currently, all online sessions must be created as Meetings.
---
No Phone-in Number
If you are creating meetings and do not see a phone number for guests to call in, you may not be logged in to Stony Brook's license of Zoom even though you used your Stony Brook email address. 
Follow the instructions for logging in but ensure that you log in from a private or incognito window:  https://it.stonybrook.edu/help/kb/getting-started-with-your-stony-brook-zoom-account
---
Waiting Room Isn't Working
If you've enabled the waiting room yet attendees can get in without having to be admitted, check to see to whom you've given Scheduling Privileges.  Anyone you've given scheduling privileges can get right in without waiting.  Learn more about Scheduling Privileges.
---
Problems with Audio on a Windows Computer
For a quick workaround, simply call into the meeting with your Mobile Device and troubleshoot later when you have more free time.
See Zoom's article on Testing Computer or Device Audio
Upon entering a Zoom meeting, if it does not detect your microphone, like depicted: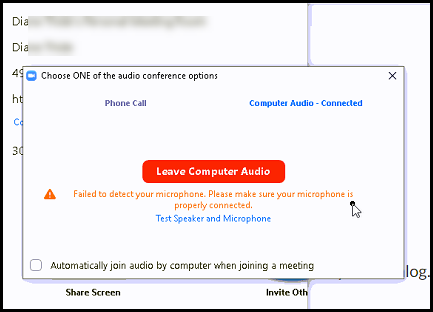 you can click Test your Speaker and Microphone for the testing wizard that will walk you through. 
If you do not see this option and are already in the meeting room, click on the arrow next to the microphone button and select Test Speaker & Microphone

You can also test your microphone in your Windows Sound Settings.  See video: https://youtu.be/maBxwtT2Kp8
If Zoom still fails to locate your microphone, it is either defective or if you are using an internal laptop microphone, you may need to update your audio drivers.  Contact Support for help on this.