This KB Article References:
Audio Visual Services
This Information is Intended for:
Faculty, Staff, Teaching Assistants
Last Updated:
August 11, 2020
Average Rating:
Not Rated
Your feedback is important to us, help us by
logging in
to rate this article and provide feedback.

General Information:
The Active Learning Classroom (Frey Hall 119) is an advanced-technology General Purpose Classroom located within Frey Hall. Faculty can request their course to be held in the ALC if they are designing their course curriculum for active learning. Courses designed for active learning gear more towards the faculty member facilitating student collaborative work to learn or to reinforce material taught previously. Reservations for the ALC are scheduled through the Registrar's Classroom Scheduling Staff, just as any other General Purpose Classroom on campus is reserved. 
Installed Equipment: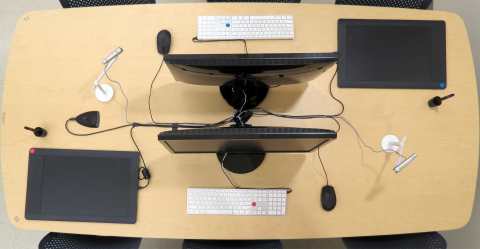 The Active Learning Classroom in Frey Hall has seating for 192 students, in groups of 3. Each student workstation is equipped with a Mac Mini, mouse, keyboard, document / web camera, a 22" Wacom IntuosPro Tablet, and a table-top mic tied into the classroom P.A. system. 
Faculty Facilitating instruction in the ALC have the option of utilizing wireless microphones and an instructor's station fixed at the middle of the room. The instructor's station is equipped with a Mac Mini, SMART Podium, and a Turning Technologies receiver. Faculty also have the option of sharing presentations or an electronic whiteboard synchronously among all student workstations via desktop conferencing software for the facilitation of their course material.

Training and Support:
Faculty facilitating instruction in the Active Learning Classroom are strongly encouraged to attend a training prior to the beginning of the semester they're using the ALC to become familiar with the equipment and space. Faculty are also encouraged to invite any teaching or staff assistants to these orientation training sessions. 
During the semester, faculty can request support or training from the Audio Visual Services Counter in Frey Hall. For more information on teaching in an active learning environment, or for help with designing course materials for active learning, faculty should stop by The Faculty Center in the Melville Library!
Policies and Agreement to use the Active Learning Classroom:
Faculty facilitating instruction in the Active Learning Classroom are asked to assist in following best practices for utilizing equipment and to assist in the long-term care of technology equipment provided. 
No food or drink (other than sealed water bottles) are permitted at the workstations,
For the security of the users personal data, all users should log out of the workstation before the end of the class session,
As a courtesy to others, users should remove any garbage, instructional materials, and personal items from the workstation at the end of the class session,
Instructors and users should ensure all workstation equipment and furniture is restored to its default configuration at the end of the class session,
No user shall remove any equipment from the workstations, for any purpose.