This KB Article References:
Skype for Business
This Information is Intended for:
Clubs, Faculty, Researchers, Staff, Students, Teaching Assistants
Last Updated:
February 14, 2017
Start a Recording
To record a session, click the ellipsis (...) at the bottom right of the Conversation Window: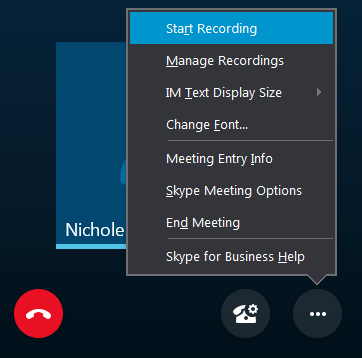 A yellow bar will appear to let you know you are recording the session.

Stop or Pause a Recording
Click the Pause

 or Stop

 button to pause or stop the recording.

Find and Manage Recordings
In the Conversation Window, click the ellipsis (...) > Manage Recordings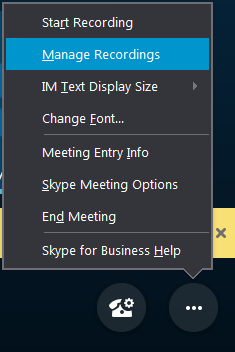 The Skype for Business Recording Manager will appear.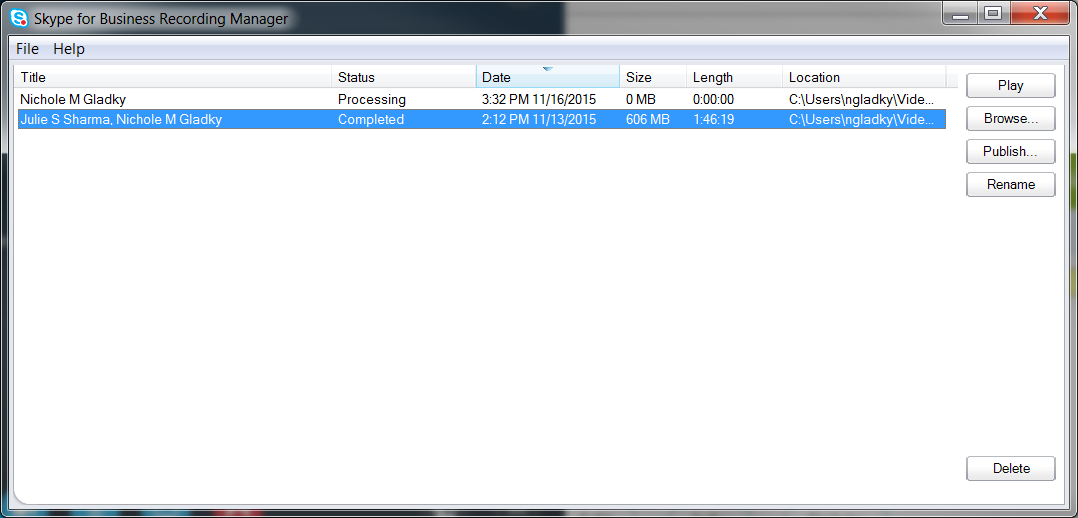 * Be sure to close the Skype for Business meeting room so that your recording finishes processing.  
** If the Skype For Business Recording Manager does not appear, look for it in your start menu.
You can select a recording to:
Play
Browse - To save it to a new location on your computer.
Publish and Save - By default, all recordings include Audio, Participant Video, Panorama Video, Instant Messages, Presented Content.  You can remove any of these by click on the Options button in the Save and Publish screen.

Rename a Recording.
Delete a Recording- Select a recording and click the Delete button at the bottom of the screen.