This KB Article References:
Echo360 Lecture Capture
This Information is Intended for:
Students
Last Updated:
August 16, 2022
Average Rating:
Not Rated
Your feedback is important to us, help us by
logging in
to rate this article and provide feedback.
How to view an Echo360 recording in Blackboard:
First, log into Blackboard at blackboard.stonybrook.edu
Next, go to the course you are trying the view the Echo360 recording in.
Next, find the folder which has the Echo360 recordings. (It may be called recordings, or echo, or be in multiple content folders)
Lastly, once you see a content item with the Echo image next to it click it and view your recordings.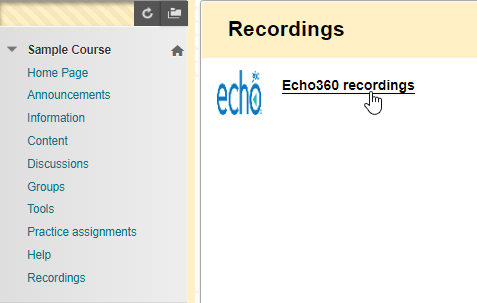 How to view a shared Echo360 recording:
Simply log into Echo360 at stonybrook.edu/echo360
Next, click on the Shared With Me tab.
If you do not see Echo360 recordings shared with you contact your professor with your Stony Brook email to make sure he shared the recording with the right student.