This KB Article References:
Skype for Business
This Information is Intended for:
Clubs, Faculty, Researchers, Staff, Students, Teaching Assistants
Last Updated:
September 13, 2016
There are a number of communcation tasks that can be done in the Skype for Business app with individuals and groups. Each one has its own set of useful features:
Chat - you can:

send an attachment (picture, video, etc.)
paste an image or send an emoticon
send something as important 

Video conference
Voice calling (no video)
Present - you can share: 

Your Screen 
Programs
PowerPoint files
Notes

Record online meetings
Add more people to the conversation
To begin communicating with someone, launch the Skype for Business app  from you computer and double-click on a name in your contacts list: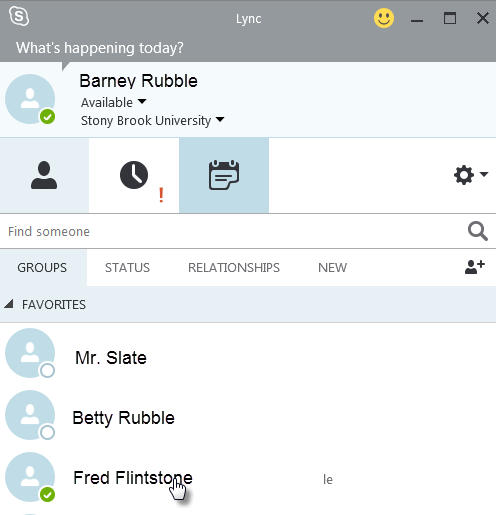 Chat
To create a message, enter text near the bottom of the screen. Click the blue arrow

 or press Enter on your keyboard to send it.
You can also paste any screenshots in the text entry area and send that too.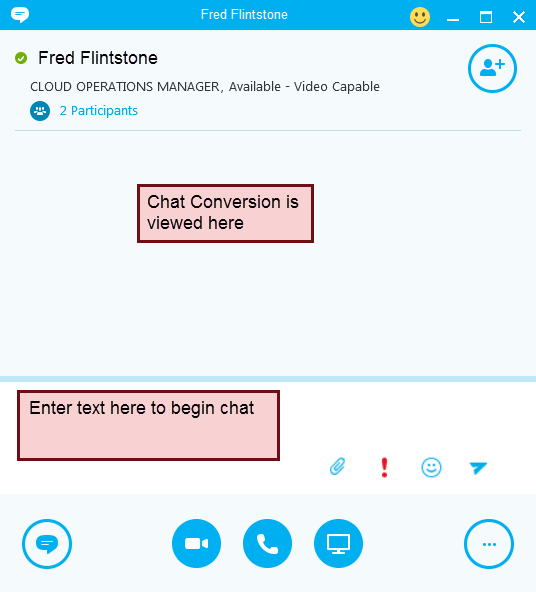 You can also:
- 

send an attachment
- 

 express that something is urgent or important
- 

 send an emoticon to help express tone in your message
Upload an attachment during your chat session
Click the monitor icon 

  and then click Add Attachments... to upload a file from your computer during your chat session.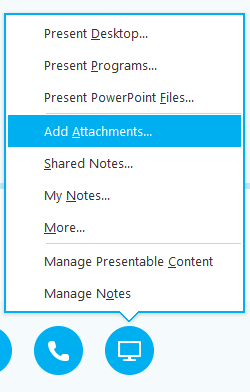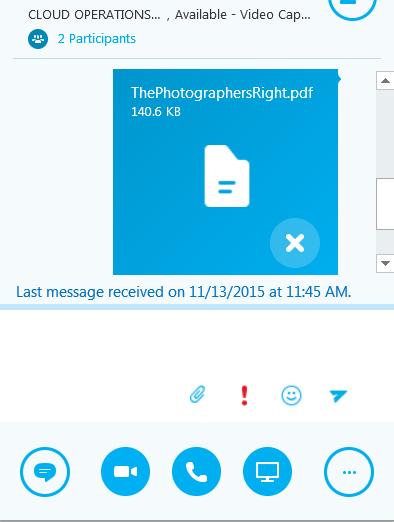 To shrink this chat window click the word bubble icon at the bottom of the screen: 

 Video Calls
If your computer does not have a built-in webcam or microphone, plug in your video camera and headset and then click the video camera icon to start a web conference right in your chat window.
 Conference Calls (Voice-only calls on your computer without video)
To make a conference call without video during your chat session, click the phone icon.
 Present and Share Your Screen
Click the monitor icon in your chat window to initiate screen or program sharing.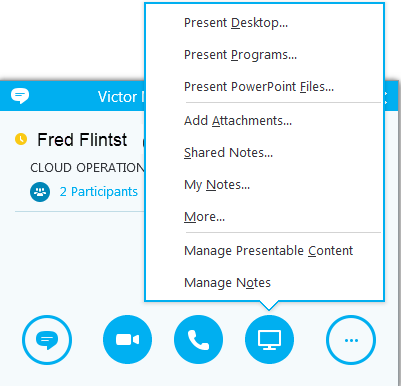 You can choose to:
Present your desktop
Present a program that is running on your computer.  This can be any program!  Like Word, Excel, a browser, etc..
Present a PowerPoint file
Upload an attachment to your audience
Share notes from OneNote
When you present you may give an attendee control over your screen or upgrade an attendee to present their screen.