This KB Article References:
Zoom
,
Zoom for Faculty
,
Zoom for Students
This Information is Intended for:
Faculty, Staff, Students
Last Updated:
August 11, 2020
Average Rating:
Not Rated
Your feedback is important to us, help us by
logging in
to rate this article and provide feedback.
You can add a Zoom Meeting to your Google Calendar events directly from Google Calendar. 
If you're experiencing issues using Zoom with Google Calendar (Hosting Zoom Meetings you added in calendar, for example), sign into Zoom in Calendar again but in an incognito browser window.
Notes about using Zoom with Google Calendar:
When using the add-on, make sure you are not signed in to multiple Google account with the add-on installed. This will cause issues when scheduling Zoom meetings using the add-on.
If you are rescheduling a Zoom meeting from Google Calendar, edit the calendar entry and change the meeting date/time. Do not drag and drop the calendar event or copy the meeting details to a different calendar entry.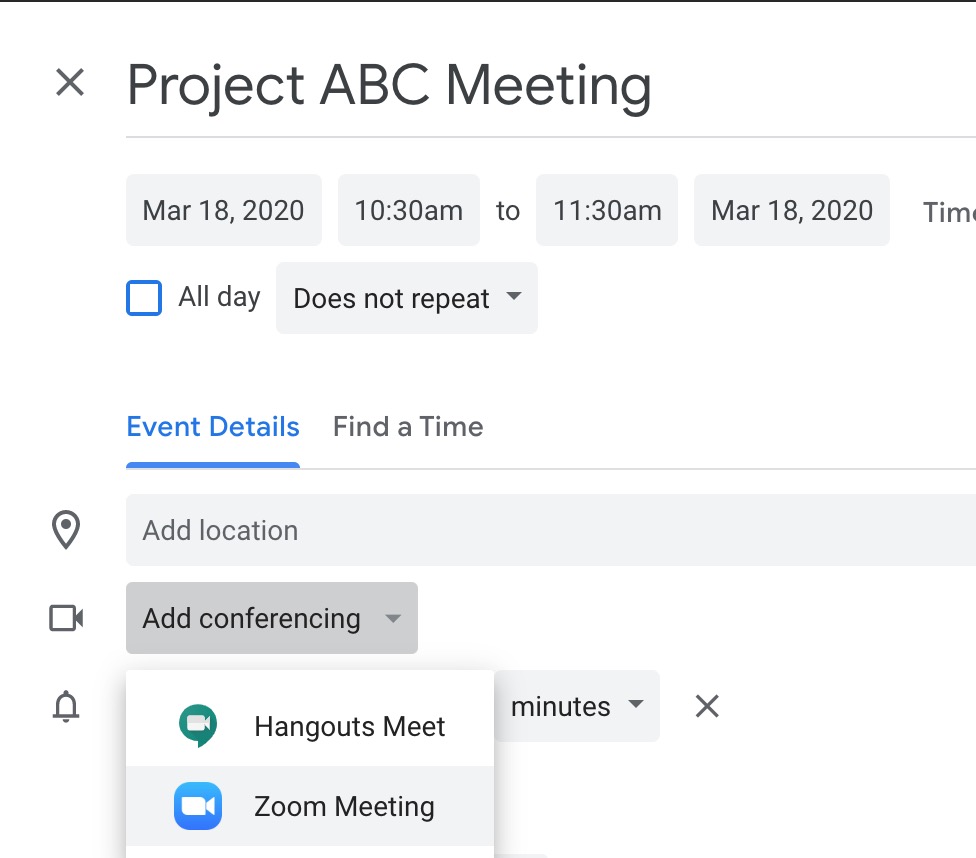 Signing into Zoom Calendar App
The first time you use the Zoom for G Suite in Google Calendar, sign in. If you have any issues with Zoom Meetings added/started in Google Calendar, follow these steps in an incognito browser window.
In a browser, go to Google Calendar at calendar.google.com 
(if you previously used Zoom in Google Calendar but had issues, first open an incognito/private window and go to Google Calendar in that window: open Chrome and then use the keyboard shortcut ctrl+shift+N on Windows or cmd+shift+N on Mac. Then in that incognito window, go to calendar.google.com, enter your @stonybrook.edu email address, and sign in with NetId and NetID password)
On the right, click the Zoom for GSuite icon (if you don't see it, click < in the bottom right to expand the right sidebar)

If you're already signed into Zoom for GSuite, click ⋮ and then Sign out
Click Sign in 

Click Sign in with SSO (if you do'nt see that scroll down/over)

For company domain, type stonybrook and click Continue

Sign in with your NetID and NetID Password
After you sign in, if prompted that Google Calendar is requesting access to your Zoom account, click Authorize.
If you don't see that, return to Calendar, and, if you still see Sign in for Zoom in the sidebar, click Sign in again and the authorization window should display.

Zoom is set up in Google Calendar; you'll also get an email with the subject "New Zoom app installed: Google Calendar"
To add a Zoom Meeting to an event, create an event and Click Add video and phone conferencing and select Zoom Meeting

Zoom conference details are added to the event.

Learn more Zoom in Google Calendar
*Find your NetID or Reset your NetID Password online now New!
(In the Stony Brook Password Reset tool, start by updating your profile, and then you will see your NetID and/or be able to reset your password)